A Q&A with Siobhan Duncan, founder of Northeastern's CollegeFashionista chapter.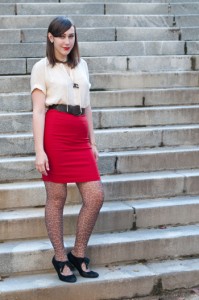 Fashion's rapidly changing trends are enough to drive any college girl insane. Leggings are out by middle school, but back in style once you hit college. Flare jeans were quickly replaced with skinny jeans and boy-band tops were replaced with skimpy tank tops. It's hard enough keeping up with what is "in" and "out" of fashion nowadays, never mind having to bring back the trends that my mother had me wear in kindergarten. How do I rock hippie chic? How do I pull off the casual rocker? If I'm trying to be a hipster does that automatically make me not a hipster? Many students would say good luck to making any outfit look at all fashionable if you're going to finish it off with a pair of Uggs. Unfortunately, Boston is not doing so well in the fashion department. According to GQ we are ranked the No. 1 most unfashionable city in the United States. Not good, Boston, not good.
However, there are many Northeastern students that think we can do better. Students are breaking down the unfashionable walls around us and trying to praise those who bring a touch of style to our beautifully landscaped campus. For instance, College Fashionista, a fashion blog site for those who are passionate about the latest college fashion trends on campuses around the world, just opened up a Northeastern University chapter this year. "This website allows students and other young adults to view photographs of what their peers are wearing around college campuses and gain valuable insight and tips to incorporate these looks into their own college fashion wardrobes," says their website. I briefly spoke with Siobhan Duncan, Northeastern's fashionista representative, about the "College Fashionista" process and her background in fashion.
How long have you been interested in fashion?
I have been interested in fashion for as long as I can remember. As a little kid I adored playing dress up, and when I learned to sew in first grade I made clothes for my dolls. In middle school I started to branch out and explore my personal style. I got it wrong most of the time, but I was always known as the fashion girl because I didn't dress like everyone else. It wasn't until senior year that I really developed an understanding of the industry and became interested in all facets of fashion.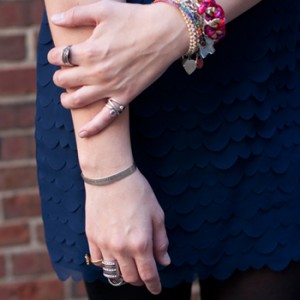 Who are your style icons?
This is difficult because there are so many people who inspire me in fashion. But I would say I am consistently in love with the styles of Lauren Santo Domingo of Moda Operandi and Vogue, Teen Vogue editor Jane Keltner de Valle, and blogger Louise Ebel.
How do you feel about the fashion scene in Boston?
I feel like it's growing. As it's very much a college town you have that element of it – jeans, hoodies, UGGs – but I also see some really inspiring style. And as a city, it's always going to be a better environment to foster fashion. In the suburbs, no one understood fashion. Here, I can wear whatever I want.
Why do you think GQ named Boston the top worst dressed city? How do you think we can change that?
First off, Manhattan was in the top 10, which made me question its validity on the whole. But that aside, Boston does have some issues: like I mentioned, the college thing, you have tourists, New England prep gone too far… et cetera. But the Boston fashion industry has really ramped up its efforts and I think it's a retaliation to that article. They want to be taken seriously. I went to Fashion's Night Out last year and it was horrid. The only place I found celebrating was Saks, and all they had was a DJ (sort of) and some drinks. This year's FNO Boston was incredible! They shut down Newbury and everyone was throwing a party. Boston Fashion Week showed the same effort from their marketing to the way they emphasized The Tent. Fashion in Boston is bigger than it's ever been and is on the ascent.
What are some of your go-to outfits/accessories for the winter months?
My parents used to make fun of me and my weather-resistant wardrobe, like, "Siobhán, it's 5 degrees out… why are you wearing open-toed shoes?" I've gotten a little more sensible since then. I have an arsenal of scarves because they are such a versatile piece. Throwing one on in a contrasting color not only keeps you a little warmer, but also makes the outfit more stylish as a whole– très Parisienne. I am also a huge proponent of tights and sweater tights, that way I don't have to give up my mini dresses. And of course, a cute wool pea coat is indispensable.
How did you first get involved with College Fashionista?
It's kind of funny and convoluted… this summer I interned with Teen Vogue in New York. I was the events intern and worked extensively on planning the sixth Annual Teen Vogue Fashion University. My boss asked me to look into this website and do some research on the background and its founder, Amy Levin, to see if I thought she would be a good seminar leader for Fashion U. I of course loved the website and told her we should absolutely do a "College Fashionista seminar". About a month later, they brought her in for a meeting and I was able to introduce myself. Amy encouraged me to apply since there wasn't a branch at Northeastern yet… so here I am.
What determines the style of the person you select for a photo for CollegeFashionista?
There are several things that play into whom I pick to photograph each week. First, there are the logistical factors. I can't tell you how many times I've missed a fashionista because she's on the phone, she's in a hurry, she's got her headphones in, etc, it's can be really disappointing. I don't want to photograph something too similar to looks I've shot previously. Sometimes, there will be one off element about an outfit, like a great dress and accessories but worn with flip-flops. But mainly I just look for someone who's got a killer style that would make a good bent for the article. I zero in on an aspect of the outfit, whether it's a particular piece, a color, a feeling, or a way of putting it together that would be interesting to write, and subsequently read, about.
What are your suggestions for people who want to get involved with CollegeFashionista?
Read the site! Interact with Style Gurus on the site, if you see an article you particularly like, leave a comment. Explore and perfect your own style, it will help you on so many levels.
What is your best advice for someone who is looking to be more stylish?
I have a few pieces of advice. Start by doing your research. Read magazines, read blogs, and build a picture of what your style is or what you want it to be. Then be confident. No matter what your style is, no matter how much your clothes cost, exude confidence and people are going to respect that. Confidence puts you in a great place overall and will help you pull off any look. Last I advise you to absolutely take risks! That's what fashion is all about.
Check out Northeastern's CollegeFashionista page here, and be sure to pick up a copy of WOOF on campus!