Over this past century, fast food has become a staple in American culture. Wendy, the Burger King, and Ronald McDonald are now symbols of a cuisine we have adopted as "classically American". Despite the plethora of notoriety fast food has accumulated over this past decade—most of it due to our country's strides towards healthier living—many people still find the efficiency and familiarity of fast food something they'll gladly incorporate into their diets.
As a college student, I am constantly finding myself restricted by both the time it takes to cook well-balanced meals for myself, and the prices of eating at a sit-down restaurant. Whether it's co-op, classes, or clubs, sometimes we're left with so little time in the day, all we can do is grab something on the go.
Unfortunately, most fast food chains contain menus that consist almost entirely of meat products. Lately, I've been having a recurring dilemma where I recommend a local burger place because it has great fries and milkshakes and I'm met with the same response: "Okay, but what about the burgers?"
Disheartened by the sad realization that I rarely get to enjoy the true fast food experience, I decided to embark on a quest—a quest to find a restaurant that serves a veggie-friendly version of traditional fast food. It was on this quest that I came across a local franchise called b.good. With several locations in the Boston metro area, it met my criteria for a fast food joint that served the usual selection of burger and fry combos. Feeling hopeful, I decided to bring a friend along to dinner and give b.good a try.
One of the restaurants is located conveniently on Mass. Ave, across the street from Berkelee College of Music. Upon arriving, the first thing I noticed was a sign just outside the entrance reading, "Pineland Farms (New Gloucester, ME) raises our beef, Marcelo grinds our beef, food made by people, not factories." For those who eat meat, having Marcelo diligently, carefully grinding the meat burger by burger instead of having patties made from a factory is reassuring. For those like me, it's a nice sentiment—but still no indication of a vegetarian-friendly menu.
My worries vanished after looking at their selection. B.good's menu functions in the same manner as any other burger joint with the exception of being able to substitute a beef burger with turkey, veggie, or chicken. You can also have sweet potato fries instead of regular fries, and as someone who loves a good batch of sweet potato fries, this was a pretty big deal for me. Filled with joyous anticipation for my fast food, I grabbed a cup and filled it with some of b.good's homemade mint iced tea, took a seat, and waited for my name to be called.
I ordered a burger they call the "Adopted Luke," made of course with a veggie patty rather than one made with meat. It was coated in Swiss cheese, caramelized onions, and a tantalizing barbeque sauce. I would've initially just liked the sandwich and not loved it, but the sauce saved the day. It had a summery sweetness to it while still doing justice to barbeque sauce's intended smokiness. It was unreal.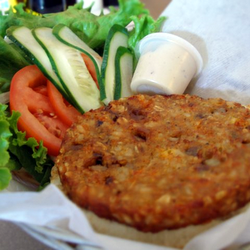 If the idea of a vegetarian, all-American dinner isn't enough to convince you to try this place, might I bring to your attention the fact that it's neither pricey nor time-consuming. For less than 10 dollars, I got a veggie burger, sweet potato fries, and the iced tea, and it took almost no time for my order to be prepared. B.good is truly all of the aspects of fast food with none of the meat.
So, I have finally done it—I've found a haven where vegetarians can finally turn their fast food fantasies into reality. B.good has really changed the fast food game in a progressive way. Not only do they make their menu available to a whole new crowd, they have achieved that perfect balance between the burgers and fries our country loves so much and our new movement towards healthier, more sustainable living.