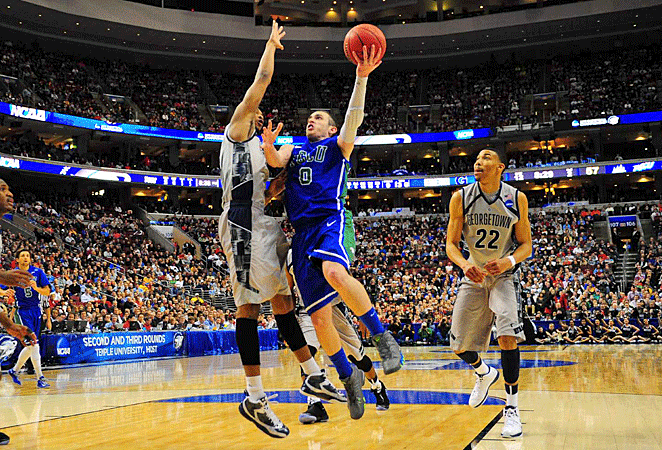 This year's March Madness was a roller coaster from start to finish, filled with dramatic upsets, unknown players rising to the spotlight, and an injury so awful many people will remember exactly where they were when they saw it. Ultimately, Louisville ended up taking home the championship, but one of the biggest stories throughout was Florida Gulf Coast University's Cinderella run to the Sweet Sixteen. Until this year, most people did not even know FGCU existed, and they definitely did not know about its colorful history or its unique approach to basketball.
Seven things you didn't know about the NCAA's top underdog:
1. Florida Gulf Coast first held classes in 1997. While the university was first established in 1991, due to construction delays it was not officially opened until 1997. Some of us have cars older than this school, and it still has five years before it will be able to legally drink.
2. Half of FGCU's housing lends itself to water sports. North Lake Village, one of FGCU's two housing villages, overlooks a lake, which allows students to take part in waterskiing, boating, and other aquatic activities during Florida's perpetual summer weather. Yeah, that's pretty cool, but they probably don't have touch screens in their visitor center to enjoy during subzero temperatures.
3. FGCU offers a Bachelor of Science degree in Golf Management. This program, one of only 20 accredited nationally by PGA of America, offers courses such as Turfgrass Management, Golf Facility Operations, and Golf Course Ownership. Students must complete the university's requirements, PGA requirements, and 16 months of internship in order to be considered for Class A PGA membership after graduation. Here's to hoping that fishing your ball out of the water and maintaining your cool in a sand trap are part of the curriculum.
4. FGCU boasts a professional monster truck driver as one of its notable alumni. Courtney Jolly, a former professional monster truck driver and beauty queen, turned pro while attending FGCU. She drove the Pastrana 199 truck, and was called "the Danica Patrick of the monster truck circuit" by Monster Jam Senior Director of Operation Mike Wales. FGCU sees your school's CEOs and company presidents, and raises it to the extreme.
5. Their basketball coach is married to a former model. Andy Enfield, the basketball coach behind FGCU's Cinderella run, is married to Amanda Marcum, a former supermodel who has posed for Maxim, Elle, and Vogue, as well as ads for Victoria's Secret. Marcum no longer models, as she is focused on her marriage and family. It's so hard sometimes not to feel sorry for Andy Enfield, coaching an impossibly successful D1 basketball team while being married to a supermodel.
6. FGCU's basketball team is the first number 15 seed to advance to the Sweet Sixteen. While this may not come as a surprise to anyone who followed the tournament closely, for reference FGCU started out in Division II 11 years ago, and achieved Division I status as recently as 2007. Not bad for a Division I program that would be entering Kindergarten; talk about big man in the sandbox.
7. Coach Enfield emphasizes fun in practice. According to a Yahoo article, Andy Enfield limits gym time to less than two hours, and "emphasizes fun and focus." Whereas most teams are constantly drilling, Enfield prefers to see his players go hard for smaller amounts of time, the same way they would in a real basketball game.