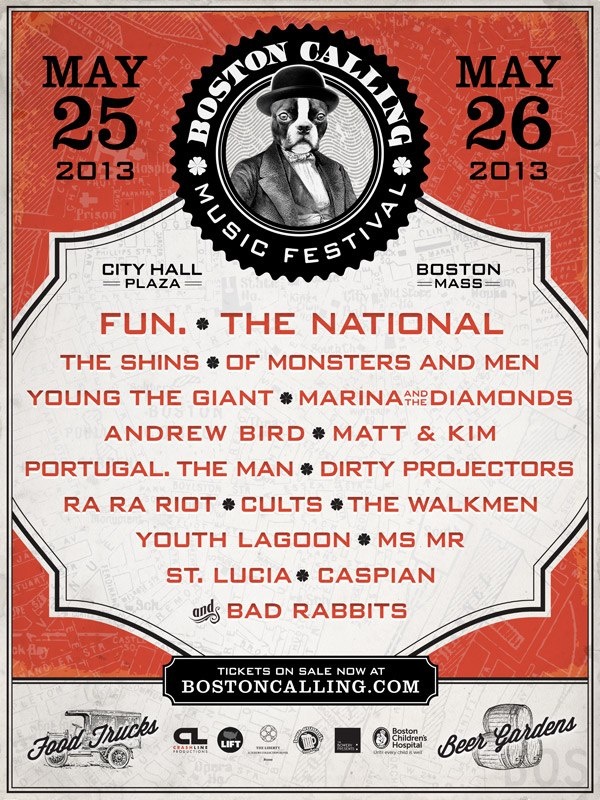 The West Coast has Coachella, the South has Bonnaroo and now New England has Boston Calling! Boston has finally caught up with other major cities with the debut of their first summer music festival. Organized by Crash Line Productions, the two-day festival will take place May 25-26 at the City Hall Plaza. According to the event organizers, the festival is expected to have up to 20,000 attendees per day.
The festival's headliners are some of indie music fans' favorites, with Fun. and The National booked to rock the stage. Other major acts include The Shins, Marina and the Diamonds, Of Monsters & Men, Young The Giant, Dirty Projectors, Ra Ra Riot, Andrew Bird and many more!
In comparison to other music festivals, Boston Calling has pretty reasonable ticket prices: $75 one-day general admission; $185 one-day VIP pass; $130 two-day general admission; $350 two-day VIP pass.
Boston has always been under the national radar when it comes to indie and alternative music despite a thriving local music scene, so it's nice to finally see some attention brought to Beantown. The turnout at Boston Calling is bound to be a huge one!
Get your tickets to Boston Calling before they sell out at http://bostoncalling.com/
Check out the full lineup below:
Saturday, May 25
Fun.
The Shins
Marina and the Diamonds
Matt and Kim
Portugal. The Man
Cults
Ms Mr
Bad Rabbits
St. Lucia
Sunday, May 26
The National
Of Monsters and Men
Young the Giant
Andrew Bird
Dirty Projectors
Ra Ra Riot
The Walkmen
Youth Lagoon
Caspian