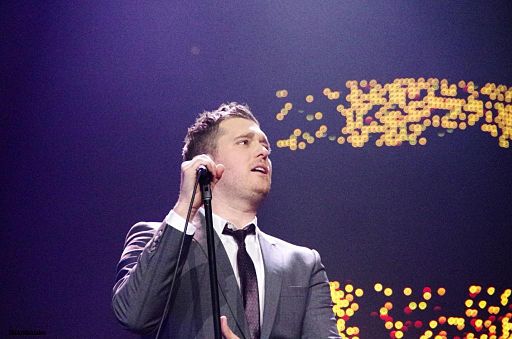 The swarm of 40-somethings pouring into TD Garden for the Michael Bublé concert Friday, September 27 told me I was in the right place… but maybe at the wrong age.
As I waded through the crowds that more closely resembled my parents than my own friends, I remembered my mother's comment that I should've invited my grandmother from Vermont to the festivities. The truth was that I was not at all surprised by the age of the crowd Bublé drew to the Garden. It was a crowd ready to be charmed by the Canadian crooner on the American leg of his world tour. Bublé's style is borrowed from the Great American Songbook, a collection that influenced the music taste of my parents and grandparents, but seems relatively unknown in my generation.
Naturally the band 7, their opener, got the night started with a cappella tunes, including some very impressive guitar and percussion work done only with their voices. They would come out to join Michael later on for a few Motown covers that had the audience enthralled, but not before Bublé had his turn with the full room of Bostonians.
Ever smooth and elegant, Bublé began his performance with a rendition of "Fever," slipping gracefully down a short ramp onstage wearing the shiniest shoes in creation. He continued into one of his own biggest hits, "Haven't Met You Yet."
Bublé most certainly knew his audience and took them through a journey of classics sung and penned by the greats (Otis Redding, Nat King Cole, Ol' Blue Eyes) with his own swingy vibrato. He took things down a notch with a collection of cooler ballads, pausing every few songs to punctuate his performance with some witty banter that showed just how comfortable and seasoned of a performer he was.
Bublé also took the opportunity of returning to Boston for the first time since the Boston Marathon tragedy to shine his ample spotlight on a survivor of the attack, dedicating "Me and Mrs. Jones" to her per her request when she'd met Bublé earlier that evening. This graciousness extended later into the set to Bublé's unique introduction of his 13-piece band in the style of a professional hockey team, allowing the crowd to see that, as he pointed out, there truly is no "I" in "team."
The two-hour set kept on swinging and jiving through a few more well-loved covers, including The Beatles' "All You Need Is Love" and Arthur Alexander's "Burning Love." The fans cheered Bublé right back out for a bubbly, showy encore, ending the show with a few sincere words of gratitude and "A Song For You," written by Leon Russell. Michael Bublé showed Boston a marvelous evening for a moondance and left his devoted audience humming all the way out into the cool September night.