Confession: I don't even like real maple syrup. As the daughter of a native Vermonter, that often gets me in trouble. From the day I turned up my nose at a stack of pancakes doused in my dad's favorite syrup, I've been, much to my family's dismay, the "high fructose corn syrup with synthetic maple flavoring" type of girl. But now, with fall just reaching Boston, it felt right to explore the possibility of treats made with real maple syrup.
So for your enjoyment I've compiled a list of five fabulous fall-fashioned recipes starring maple, including some unexpected twists on classic dishes. The biggest surprise? They're not all just for breakfast!
Crunchy Maple French Toast with Maple Vanilla Butter (adapted from Food52.com)
Serves 4 hungry students.
For the French toast:
1
 cup cornflakes
1/2
 cup light cream or half and half
1/2
 cup milk (preferably not skim)
2 
large eggs
2 
tablespoons maple syrup
1 tablespoon vanilla extract
½ 
teaspoon cinnamon, preferably Vietnamese
8 
thickly cut slices of day old challah or brioche (If you have no old bread on hand, dry the slices in a 250 degree oven for about ten minutes.)
1 
tablespoon butter for greasing your skillet or griddle.
For the maple vanilla butter:
2 
ounces unsalted butter at room temperature
¾ 
teaspoons maple syrup
¾ 
teaspoons vanilla extract
2 
pinches sea salt
½ 
teaspoon brown sugar
*Note: Be sure to make the maple vanilla butter first and let it chill for several hours or overnight.
Combine your soft butter, syrup, vanilla extract, salt and brown sugar in a bowl and mix until fully incorporated.
Serve out of the bowl or place onto a sheet of plastic wrap, forming a stick to refrigerate for later.
Scoop your corn flakes into a plastic bag and zip shut, leaving no air inside. Crush the corn flakes with a cooking spoon until they've formed smaller crumbs. Pour the flakes onto a plate or baking sheet and set aside.
Whisk your eggs in a casserole dish big enough to fit a few slices of bread at once. Add your maple syrup, vanilla extract, cinnamon, milk and half and half, whisking until frothy and combined.
Melt a tablespoon of butter on your skillet or griddle over medium heat.
Place a few slices of bread in your egg-milk-spice mixture, turning over with your fingers quickly to keep the bread from soaking up too much liquid and becoming mushy. If your bread is really dry, you may need to leave it in longer on each side of the slice.
Transfer your slices to your plate of corn flake crumbs and flip, coating well on each side to form your crust.
Place your coated slices into your skillet and let sit for 2-3 minutes on each side. Your flakes should be golden and crispy.
Serve immediately with fresh berries, maple vanilla butter and whipped cream if you're feeling extra decadent. Enjoy!
The Easiest Maple Cheesecake Ever (adapted from HomeCooking.About.com)
Makes 1 cheesecake.
1 store-bought graham cracker crust
1 (8-ounce) package cream cheese, softened
1 (14-ounce) can sweetened condensed milk
1/3 cup lemon juice
3 tablespoons maple syrup (leave 1 tablespoon to drizzle over of cheesecake for decoration)
Follow the directions on the package for baking the graham cracker crust. Leave the cooked crust to chill in the refrigerator while you prepare the filling.
Beat the well-softened cream cheese until fluffy. Be sure the cream cheese is completely room temperature, otherwise your filling will be lumpy.
Add the sweetened condensed milk, lemon juice and 2 tablespoons of maple syrup and beat well.
Pour the filling into the chilled pie crust and chill for several hours.
Before serving, drizzle 1 tablespoon of maple syrup over the top of the cheesecake for a polished look. Enjoy!
Apple Maple Turkey Burgers with Maple-Dijon Sauce (adapted from FoodNetwork.com)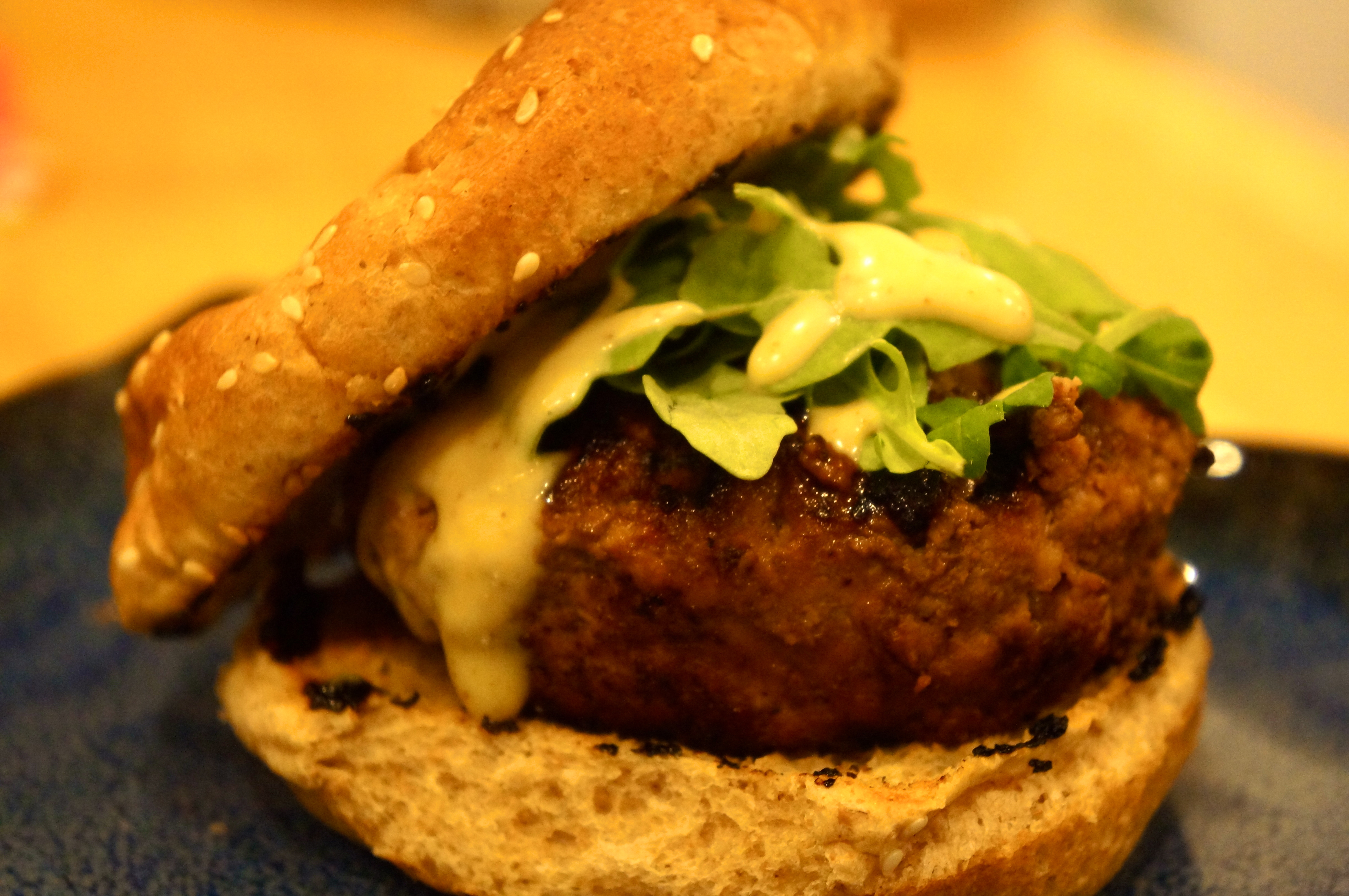 Serves 5 hungry students.
For the maple-dijon sauce:
1/4 cup mayonnaise
1 tablespoon Dijon mustard
2 tablespoons maple syrup
For the turkey burgers:
1 1/4 pounds ground turkey breast
1/4 cup real bacon bits
1/2 cup chunky applesauce
2 tablespoons maple syrup
1/2 teaspoon salt
1/4 teaspoon ground black pepper
Hamburger buns
Hamburger condiments
Heat a skillet over medium heat with a tablespoon of oil.
Combine your mayo, mustard and maple syrup in a small bowl and set aside.
In a large bowl, mix your ground turkey, bacon bits, applesauce, maple syrup, salt and pepper until combined. Form about 5 patties with your hands (wet your hands to keep them from being too sticky.
Cook your burgers for 6-7 minutes per side until they reach an internal temperature of 165 degrees.
Serve on a bun with your maple-dijon sauce and any other condiments. Enjoy!
Maple Horseradish Baked Chicken Breast (adapted from MassMaple.org)
Serves 1 hungry student.
1 large chicken breast
1/4 cup of maple syrup
1 tablespoon of creamy horseradish
Preheat your oven to 400 degrees.
In a small bowl, whisk together your maple syrup and horseradish until well mixed.
Place your chicken in a baking dish lined with aluminum foil. Brush maple horseradish mixture over chicken, coating on both sides.
Bake your chicken for 18-20 minutes until the internal temperature reaches 165 degrees.
Let sit for 5-10 minutes until cooled. Enjoy!
Maple Bacon Chocolate Chip Cookies (adapted from AllRecipes.com)
Makes about 2 dozen cookies.
2 cups all-purpose flour
1 teaspoon baking powder
1 teaspoon baking soda
1/2 teaspoon salt
1 cup butter, room temperature
3/4 cup packed brown sugar
2 eggs
1 teaspoon vanilla extract
2 tablespoons maple syrup
1 package chopped cooked bacon
1 1/2 cups bittersweet chocolate chips
Preheat your oven at 350 degrees.
Whisk your flour, baking powder, baking soda and salt in a medium bowl until combined.
Cream your butter, syrup and brown sugar. Add your eggs one at a time until well beaten, then add your vanilla extract.
Stir in the flour mixture a half-cup at a time until fully mixed.
Add bacon and chocolate chips and stir until combined.
Scoop by the tablespoon onto your baking sheets.
Bake for 12-15 minutes until lightly browned.
*Note: the crunchier, the better for these babies. The bacon bits are more effective when nice and crisp!
Cool on a wire rack. Enjoy!
Maybe I still won't be pouring any Vermont maple syrup on my waffles anytime soon, but these maple-filled recipes are definitely going to become staples in my kitchen rotation, especially that french toast!
Bon appétit, Northeastern!