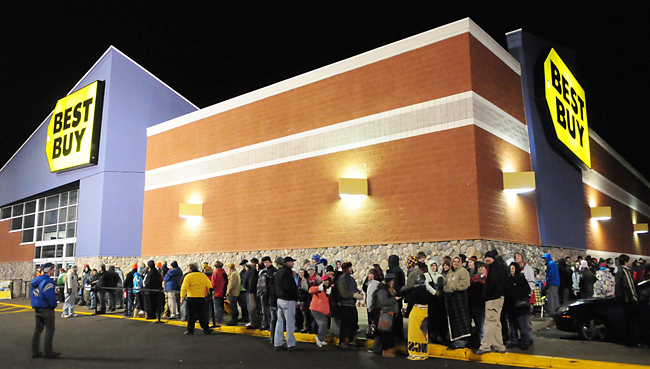 Thanksgiving may be the time of year when we get to eat great food and spend time with loved ones, but it's also the time for one of the busiest shopping days of the year: Black Friday. Black Friday has developed a negative stigma over the years, and while some of that reputation may be deserved, it is also a time to take advantage of great deals and make a dent in that Christmas shopping list.
Going into my fourth year of shopping on Black Friday, I would call myself a seasoned professional. To help those of you who may be venturing out for your first Black Friday endeavor, I comprised a list of the five major ways to ensure that you get the most out of the experience.
Have a game plan
On Black Friday there will be many great deals that will tempt you to buy everything. The key to saving money is to go in with a list of what you're looking for. I like to make my gift list and then look for deals on those items only. Also, a note of advice: Unless you see a particular technology product on sale that you want to get, avoid the technology department all together. Technology is usually where all the craziness happens, so if you don't need anything, steer clear and I promise your shopping will be much more enjoyable.
Don't dress to impress
Black Friday is not a time to look cute and impress people with your stylish new riding boots. This is the moment we as shoppers have been training for all year long, the Shopping Olympics. Since I like to think of this as an athletic event since you're still burning calories, my go to outfit is sneakers, workout leggings and a light shirt. It is also important to keep in mind that running around will get you hot quickly. Keep it light in the coat department; usually a sweatshirt or North Face is just enough. If you plan on getting there before the store opens, you may want to add a layer to keep warm while you wait in line. I would also suggest not bringing a large purse. Opt instead for a small cross body or wristlet to free up arms and hands for carrying all your bags.
Scan flyers and helpful apps
In the weeks before Thanksgiving, stores will send out numerous flyers promoting all of their deals. Keep an eye on these because you can occasionally get better deals on products. If you don't get flyers, most major retailers are now developing apps that are a digital version of their flyers. To get these and other flyers, search Black Friday in the app store. Another great app to download is Red Laser, which allows you to scan the barcode of a product to see both in-store and online prices. This comes in handy since many stores like Target and Wal-Mart price match.
Be nice to the employees
We all know Black Friday can be a very stressful time, but it's even more stressful for the people who have to work. Many of them are missing out on spending time with their family or had to wake up in the middle of the night to work. Be nice to them, don't complain and try to be respectful. Courtesy goes a long way.
Have fun!
This is probably the most important rule all. While it can be stressful, Black Friday can be fun for people who go in with the right mindset. Try not to get too competitive; there will always be more deals and more products. This is the time of year to be thankful for the things you have and the people in your lives, and if you remember that you'll have as much fun as I do.