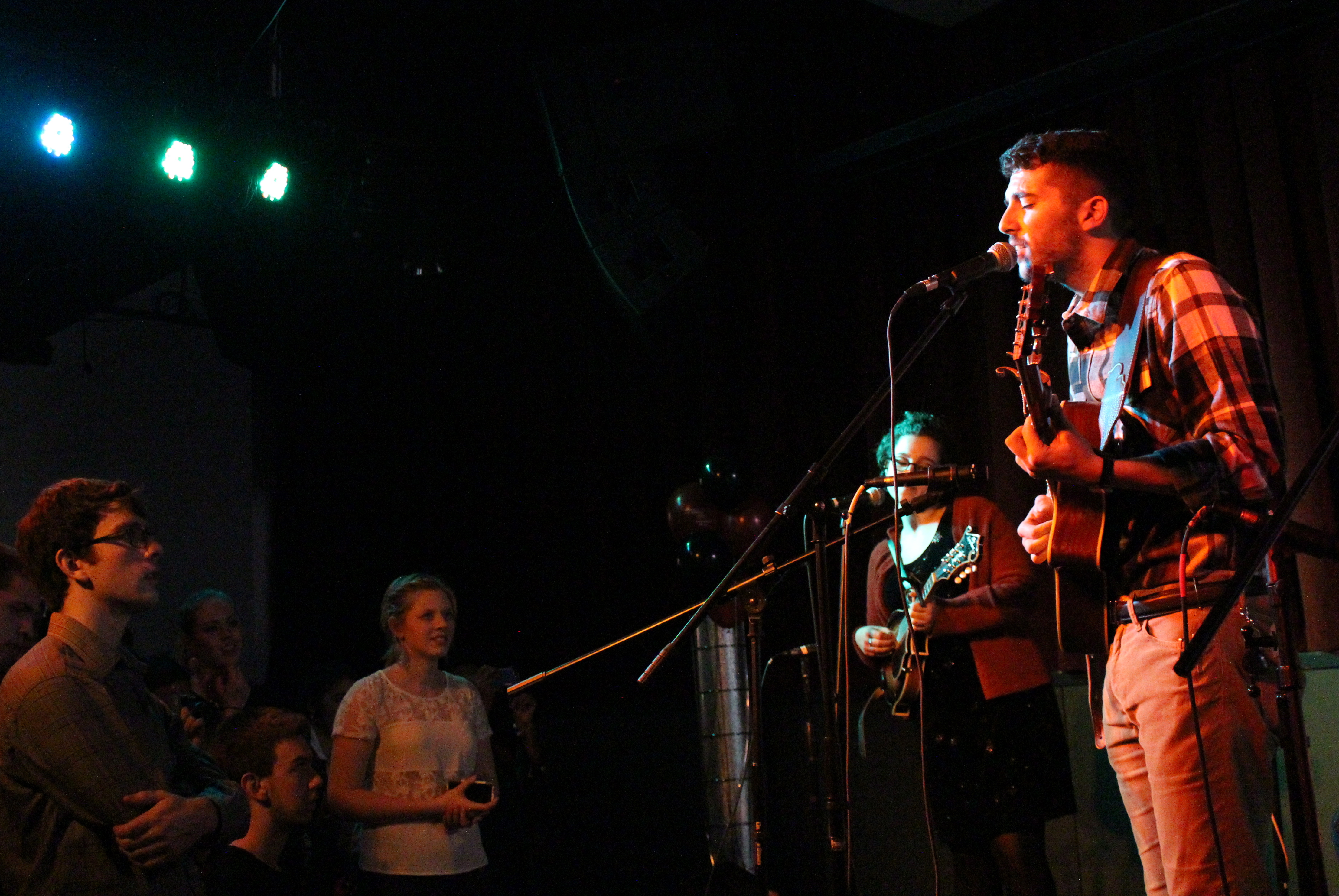 Photos by Carolina Rodriguez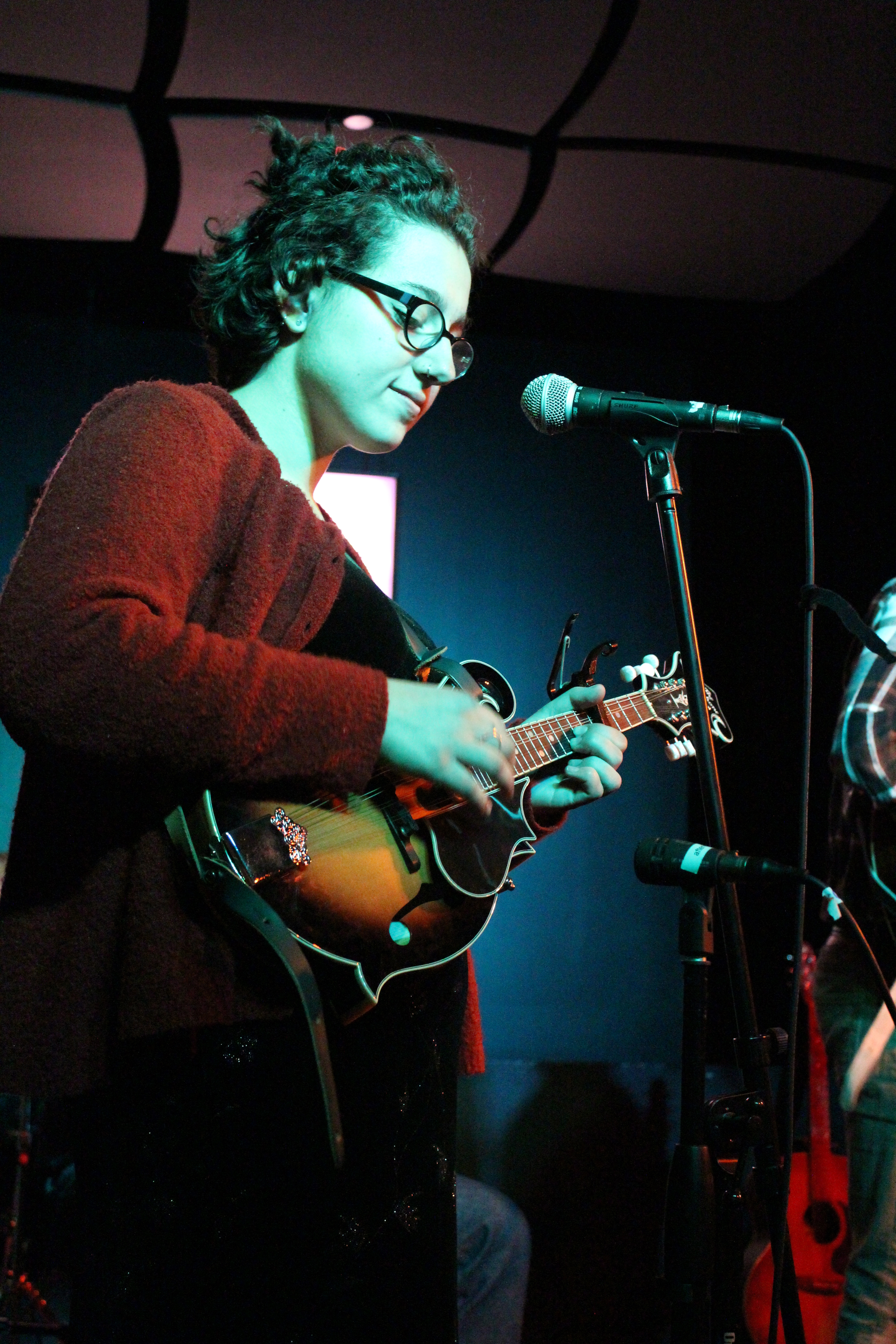 Last semester, on Thursday, November 14th, afterHOURS hosted "Battle of the Bands" as part of Homecoming Week. Five bands competed and there were two winners that night–the judge's pick and the audience's pick. The audience's chose The D-Line, an alternative folk country band with a. Unique sound and our newest music obsession.
The D-Line was originally formed by David Rabinowicz, and friends Robin Shuster, and Clara Lorant, who are all from Newton, MA, a suburb about twenty minutes outside of the city. The trio attended high school together and were friends before starting The D-Line this past summer.
For thetrio, it all started with a stranger in a music shop. When Rabinowicz heard about an open-mic night at a bar called Smokin' Joe's in Brighton, MA, he decided to go. He, Lorant and Shuster decided that they play some covers together, and their band was formed.
After that show, they received an email from a woman named Joanne Phillips, who said she had heard their performance and that she liked their sound. Phillips said she used to own a studio in Indianapolis, but had moved to Boston for work and needed to make a reputation for herself again, and wanted to do it with them. She offered them a free recording gig, as long as they paid for the studio. Phillips was also splitting it and working for free, so she charged them $20. The four hours of studio time they put in resulted in their online EP, and they decided not to let a good thing go.they decided to keep going with it.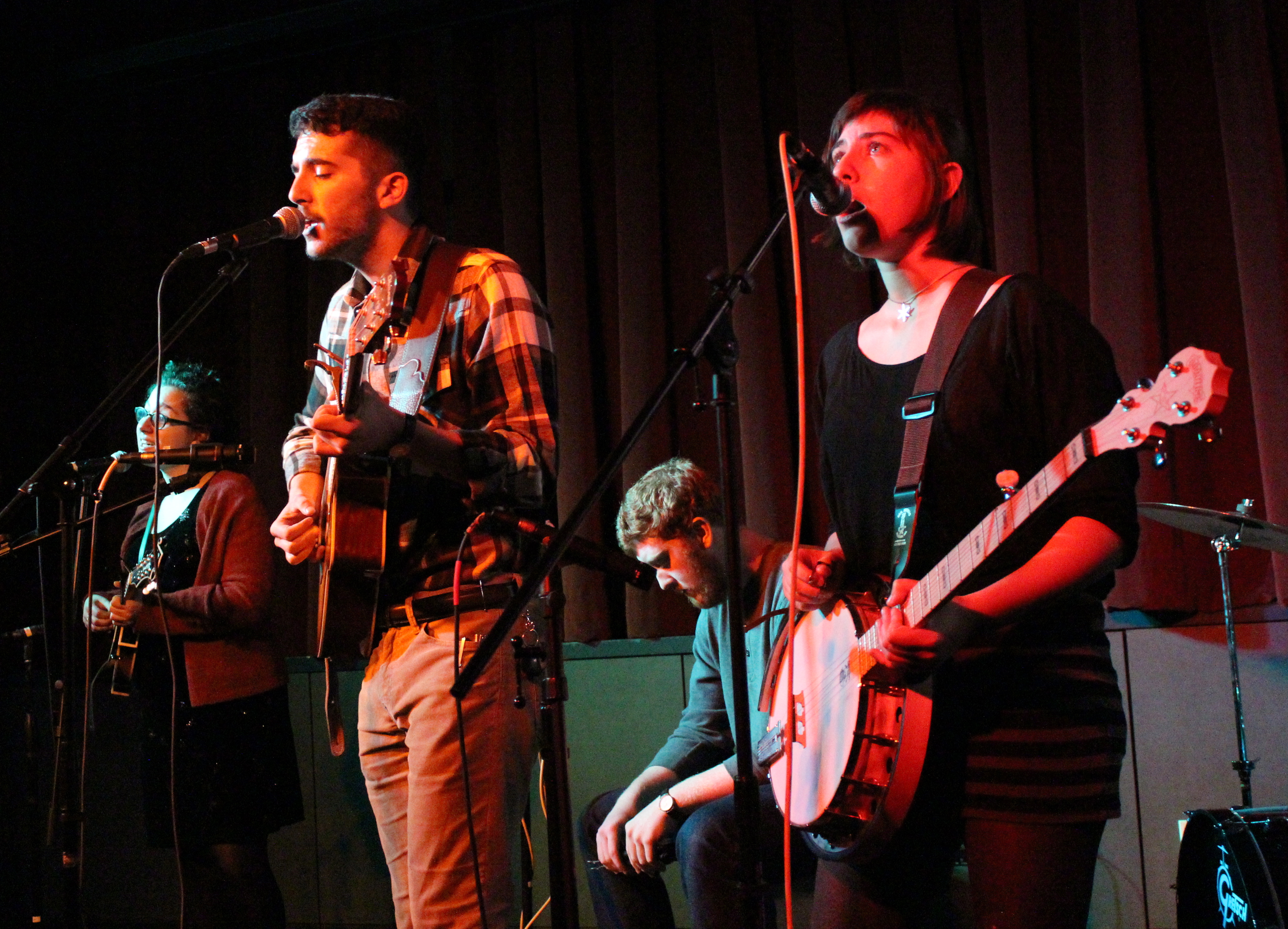 David Murphy, the fourth member from Oakland, California, joined more recently. Rabinowicz met Murphy, both Northeastern students, after befriending his roommate at orientation, who introduced Murphy to Rabinowicz.
"Sparks flew," joked Murphy. Robin Shuster and Clara Lorant attend Emerson College.
The group named "The D-Line" after the branch on the MBTA's Green Line, on which Newton is one of the stops.
"Newton is a suburb of Boston, which three of us are from," says Rabinowicz. "The D-line is part of the Green Line so it's always been kind of an idealized track of train." Shuster said, "It speaks to our roots and transition and movement."
In regards to the band's style, "It's got a folk and country sound," Rabinowicz said, "but the lyrics are more pop/alternative." The group draws inspiration for their songs from their own personal experiences.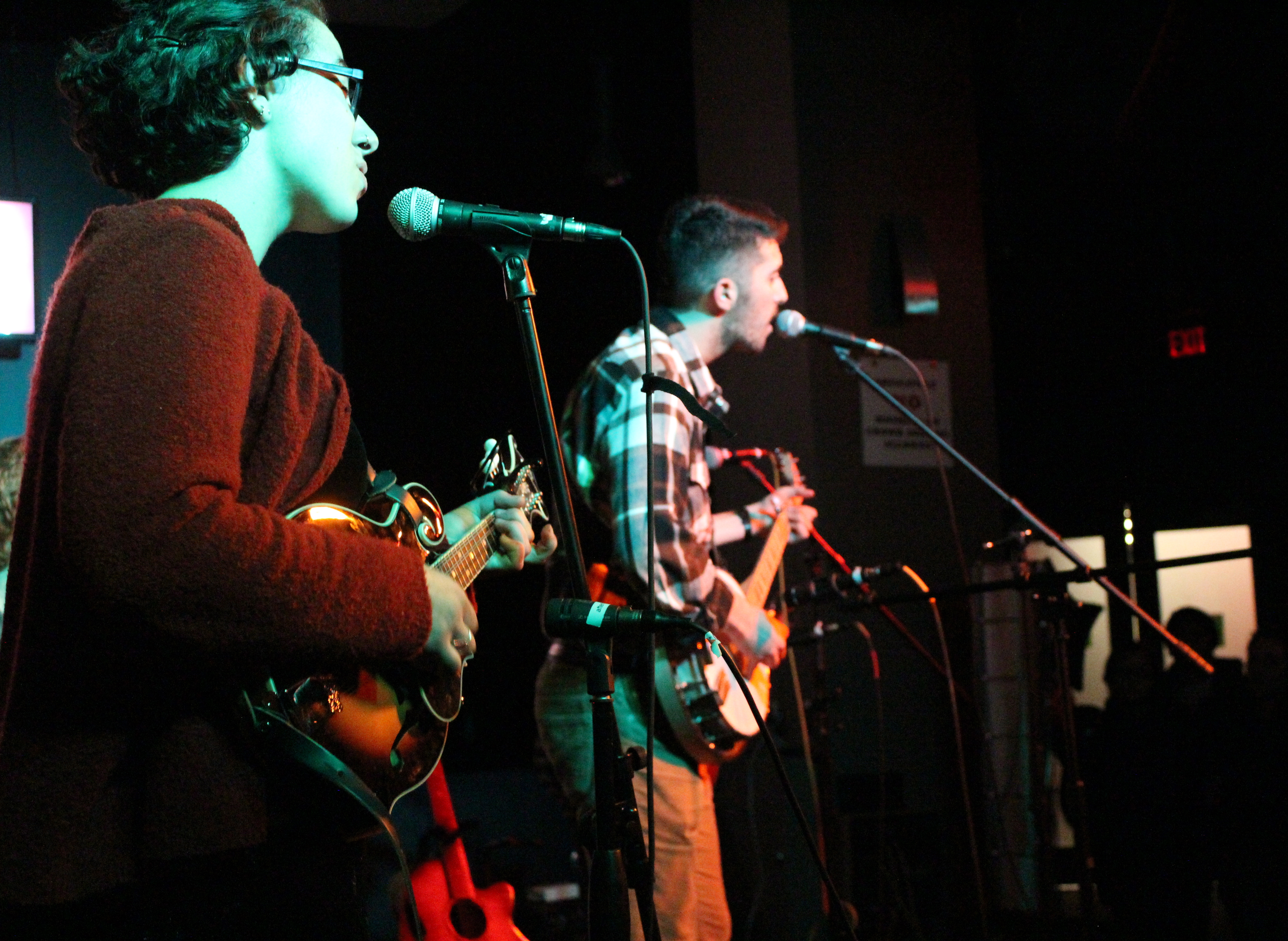 "There are obviously themes of relationships, and friendships and turning points and ending points," Shuster stated. ""I think we have an air of nostalgia that runs through our songs." As for musical influences, Lorant said, "I think collectively, we take a lot of inspiration from old-school bluegrass, just kind of that 'thumping beat' is really fun." They cited examples such as Simon and Garfunkel, the Milk Carton kids, Cat Stevens, Crosby, Stills, Nash and Young, and old-school Tegan and Sara, among others.
All four members have always been interested in music. "David always played guitar, Clara played viola as well as guitar and she plays banjo now and I have played trumpet in the past as well as guitar and mandolin," said Shuster. Murphy added, "I played drums since fourth grade and when I was choosing colleges, an explicit requirement was that it has to be a place where I can join a band and play live gigs."
During their songs, they play an assortment of instruments, including guitars, a mandolin, a banjo, and a cajon. Not only are they talented with playing music, but are all singer-songwriters as well.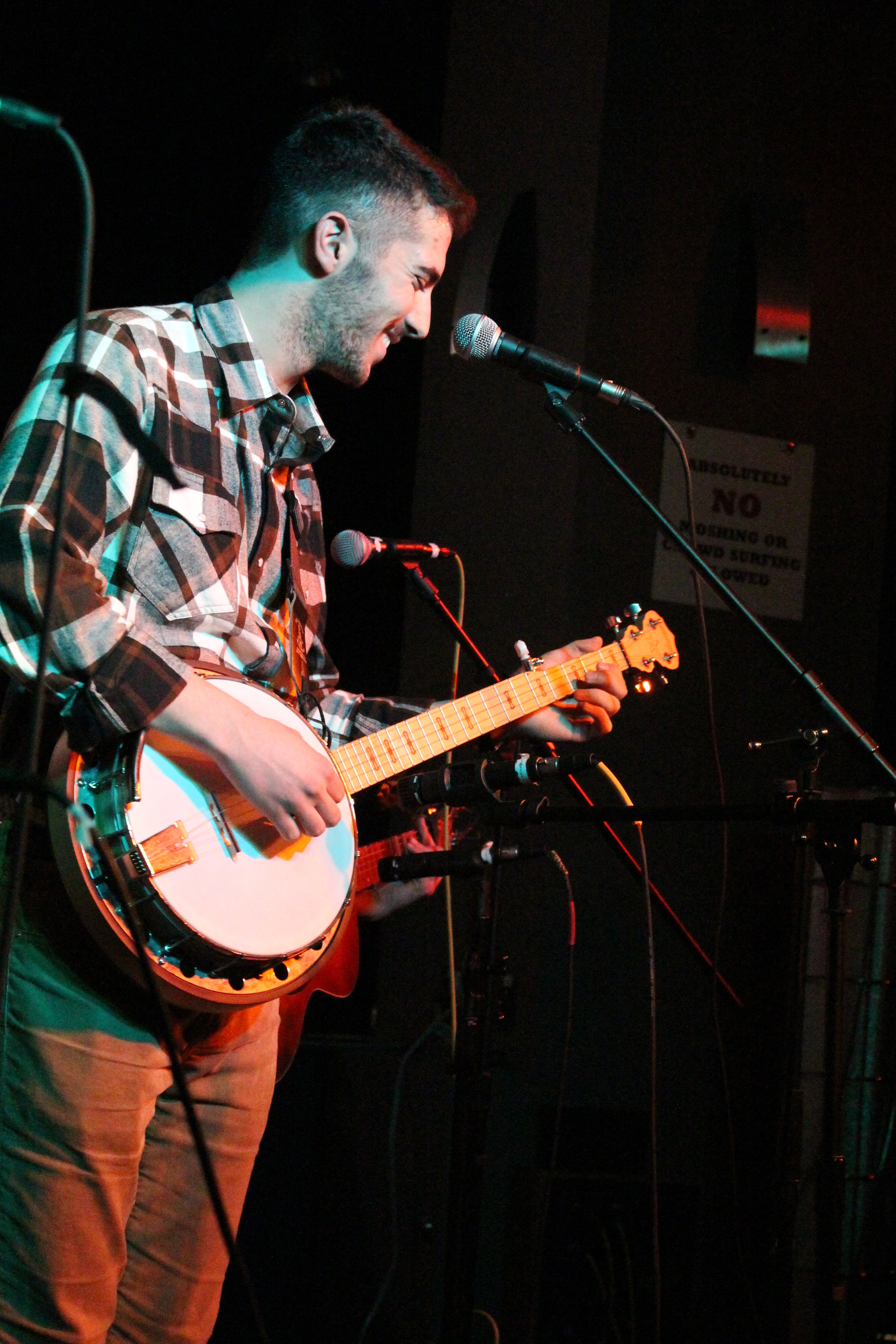 "We all have our own individual stuff going on," noted Shuster.
And how has Northeastern been with supporting bands? According to Rabinowicz, "I think Northeastern is doing a really good job of encouraging student musicians to continue being musicians." The rest of the band agrees.
"Northeastern is very conducive if you're a band," said Shuster.
The band's biggest supporters are their parents and friends. "My floor is super supportive," said Rabinowicz. "They listen to the EP when they're doing homework."
Lorant admitted that she's surprised when she hears that people listen to The D-Line. "I don't know why I'm surprised, but every time I kind of hesitantly mention that I'm in a band, people are so enthusiastic about the music and I'm always taken aback by their enthusiasm. It's really nice to have that."
Originally, the group started out "just for fun," but if it does end up becoming more successful, Rabinowicz said, "We're interested in seeing where it takes us."
Shuster added, "It's also fun just to play gigs, have people respond to your music positively and play with your friends or be on stage."
As for their future plans, they're focusing on playing more gigs. Recording may be a possibility once they tweak their songs, since they still have a relationship with Joanne Phillips.
When asked if they felt that the band has brought their friendship closer, the answer was a unanimous yes.
"There's something you really share when you're making music together and playing gigs," said Rabinowicz. "You share a lot with each other, besides even just sharing your emotions through the songs."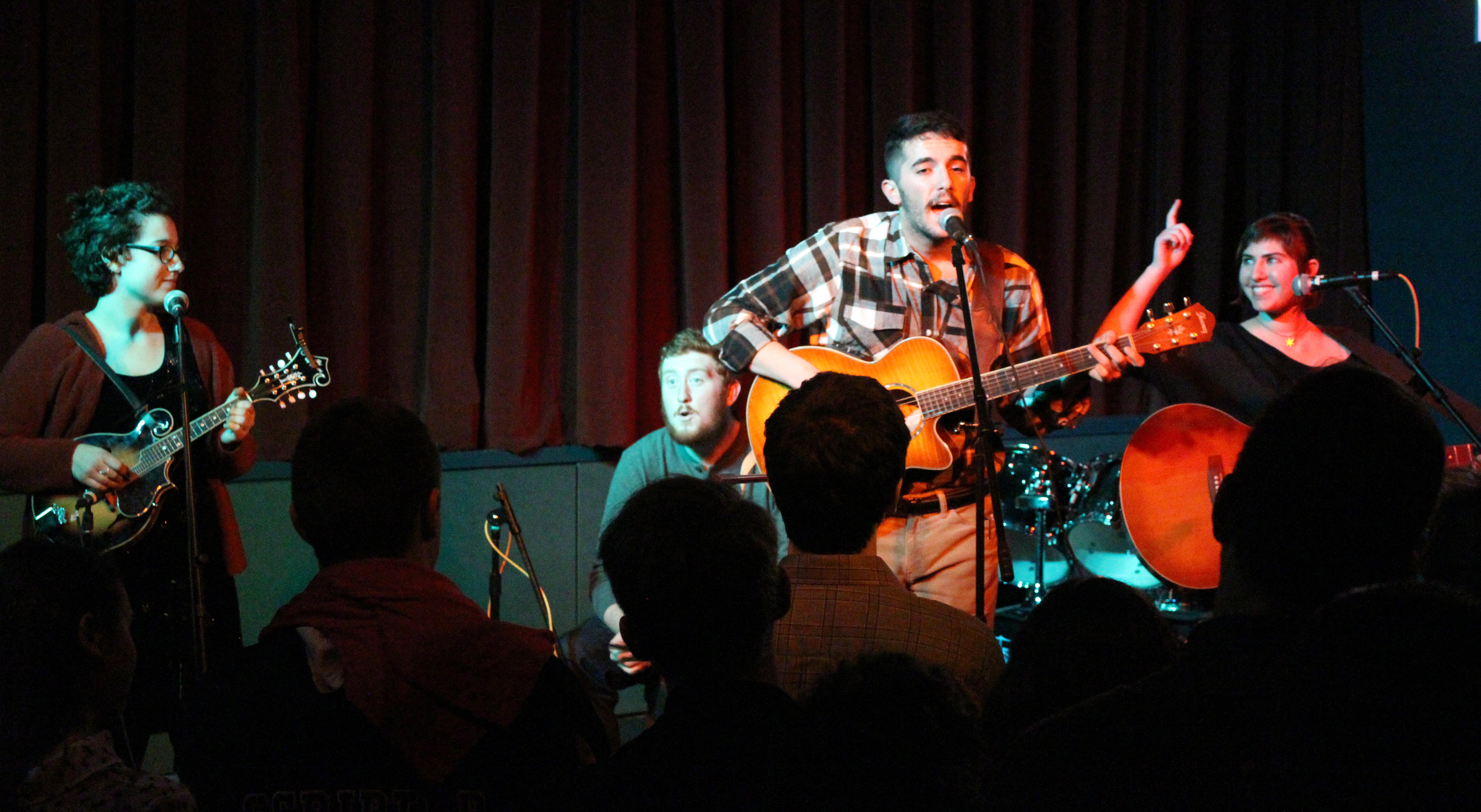 Being in a band has been a learning experience for them all.
"You've got to be open to change, especially if it's your song," says Lorant. As for advice for bands just starting up, Murphy emphasized, "Make it with your friends." Shuster added, "Or at least people you trust. When you're sharing something that's so personal, you have to trust the people that you're with." She admitted, "I think the best music that we do comes from a very honest place."
You can give The D-Line's EP a listen at thedline.bandcamp.com or if you want to see them perform live, they'll be playing at McGann's Pub on Saturday, February 8th.