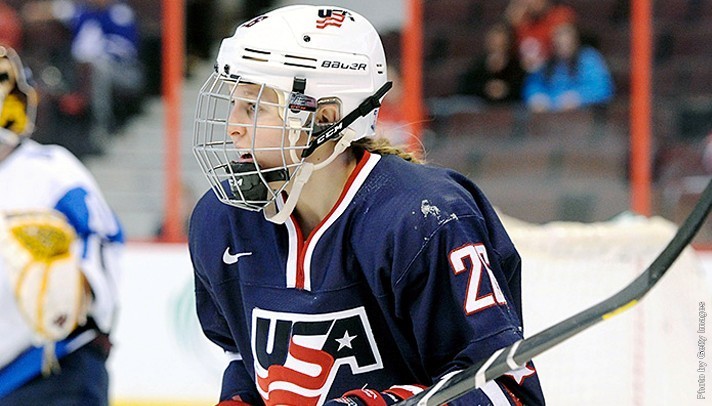 A nice "privilege" that young college students have is that they can be fickle. Sheltered in the protective bubble of their respective campuses, they have a free-pass, a green-light to be fickle with their interests, their friendships, their thoughts and their worries.  As of late, however, Northeastern student Kendall Coyne hasn't enjoyed that particular luxury. For the past eight months, only one thing has made her smile, suffer and work. For the past eight months, only one thing has occupied the lion's share of her time and mind. That thing, of course, is hockey. As a soon-to-be winter Olympian, Coyne knows nothing short of absolute focus and dedication will keep a gold medal within sight.
A star forward here at NU, Coyne has been intensively training with Team USA since August. Along with elite talent from all over the country, she's been living and breathing the sport she loves on a daily basis. On December 20 of last year, she was officially named as one of the 21 athletes to make the Olympic roster, an accomplishment she was quite proud of. "It's a tremendous honor," she said, "Anytime you get the opportunity to live out your dream is really special."
Still, what was most striking in conversation with Coyne was the extent to which her sense of purpose was evident in every anecdote she recounted, in every word she employed. Even though the training she went through was both "physically and mentally demanding," she said it was still "nice going to the rink every day with special people committed to winning a gold medal." Further, while she missed the feeling of school pride while away, she declared "it was really nice to focus on just one thing, in this case, hockey."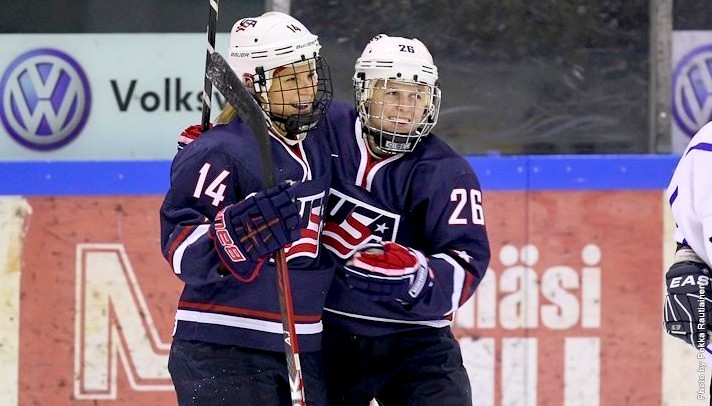 Looking ahead to the trip to Sochi, Coyne is, characteristically enough, only looking forward to "limiting distractions and focusing on the hockey itself." Sure to make the trip to the Russian coastal city even sweeter will be the presence of her beloved family, who will be accompanying Coyne to witness her Olympic debut.
"It was a pretty special moment when my mom told me everyone was going to be able to go," Coyne recalls, "They all sacrificed a lot for my hockey."
Though Coyne's Olympic aspirations intensified over the last year, (she fondly labels 2013 the "greatest year of my life") her road to Sochi started much before that.
It started when she was a young girl, honing her skills with boys until the age of 15. It gained a touch of inspiration when meeting a past national women's hockey team coach at age seven, who impressed on her mind what excellence in the sport can lead to. And, of course, it took her to Northeastern, where the undersized but scrappy 5-foot-2-inch competitor propelled the Huskies to clinch consecutive Beanpot tournament victories. In her first two years representing the school, Coyne became the first Husky in over a decade to score at least 45 points in back-to-back seasons. She amassed 63 goals and 50 assists in total.
Coyne's prowess in the doghouse has not gone unnoticed by NU's women's hockey coach Dave Flint.
"What sets [Coyne] apart is her determination and drive to be successful at whatever she is doing," he said, "Her work ethic is second to none."
In fact, Coach Flint believes Coyne is more than capable of making her presence felt at the Olympics. "Kendall will do very well at the Olympics; she is one of the top forwards on the U.S. team and she has been preparing a long time for this opportunity," he said.
Playing for the school, though, is quite different than playing for the country. While the game itself is the same, the competition, the attention and the pressure all spike up to higher levels. The skates don't change, but the stakes do. Coyne, who has represented the U.S. in international competitions before, knows what to expect. "There is definitely more pressure playing for the country because you're representing the entire United States," she said, "It's different; it's bigger. Everything you do reflects on the country."
Post-Olympics, Coyne has a co-op in Chicago lined up and plans to return to campus in the fall for her junior year. Coach Flint, for one, thinks she'll return to Boston as an even more positive influence on the team.
"I think anytime you have someone associated with your team involved in the Olympics it is a huge credit to the program," he said, "I think she is going to be an even better hockey player when she returns as well as being more mature and an even better leader than when she left."
Watch Coyne and her teammates begin team USA's quest for Olympic glory on February 8 when they square off against Finland. When all is said and done, only a gold medal will shine brighter than our fellow Husky's focus and dedication.
EDITORS NOTE: Since the completion of this article, Kendall Coyne and the U.S. Women's Hockey Team won their first game on February 8th against Finland, 3 to 1, and their second against Switzerland, 9 to 0. They next play the Canada on February 12th.