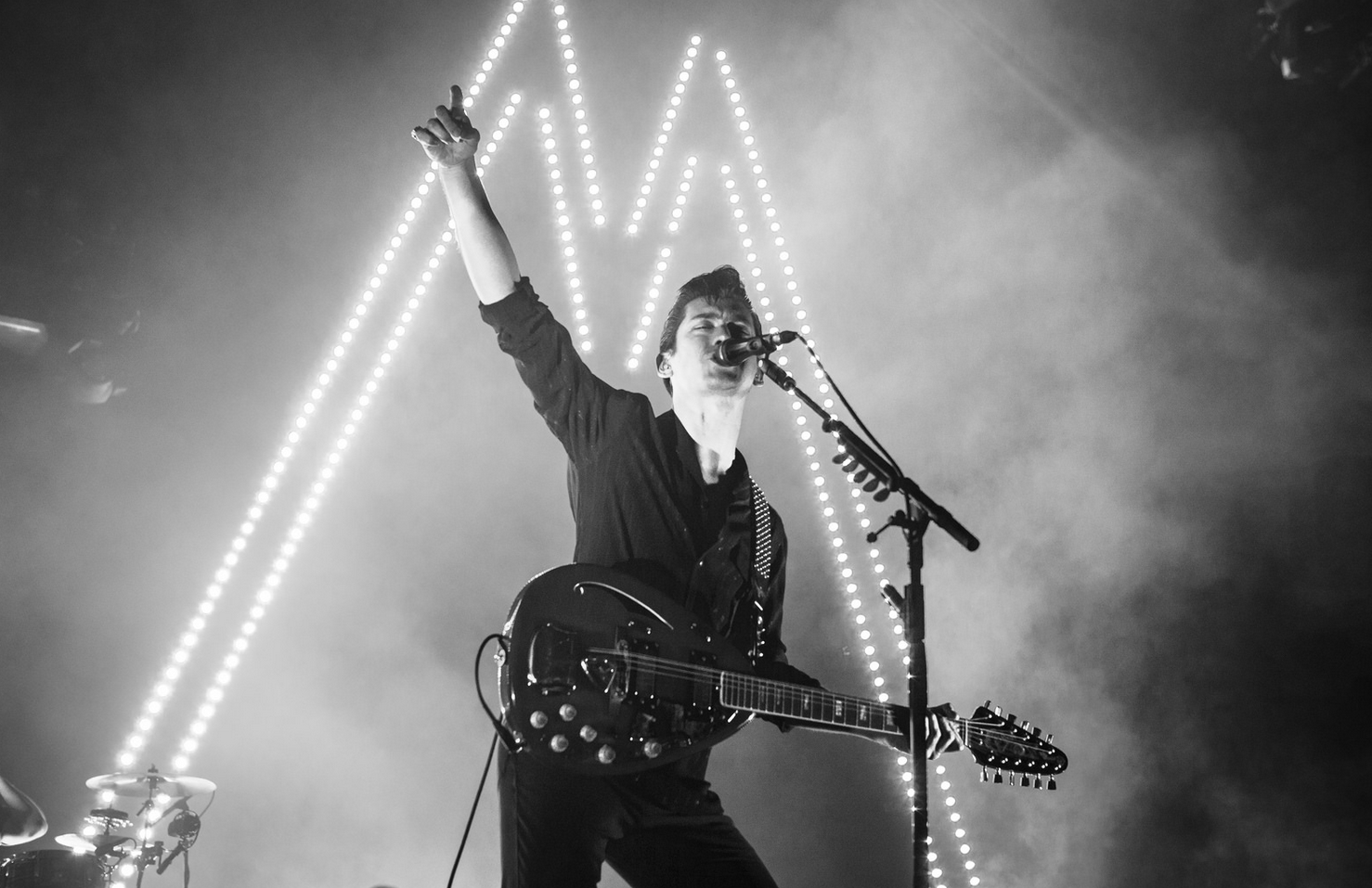 Since their explosive debut back in 2005 with Whatever People Say I Am, That's What I'm Not Arctic Monkeys have captured the hearts of many who crave pure and whole-hearted rock n' roll. The latest album from the Sheffield, England-bred band finds them in a more mature and confident realm, thrusting them into soon-to-be legendary status. AM, released in September 2013, is a stunner filled with booming production and poetic lyrics that were made to be heard in large arenas – and that's exactly what the band is doing.
It was a mix of older adults and college students, but the anticipation was completely universal. Deerhunter, an indie rock band from Atlanta, eased the crowd with their melodic tunes that had a southern flair. They had a similar vibe to the British acts of yesteryear who invaded America back in the '60s – thanks to their crisp suits, lullaby rhythms and atmospheric vocals. Deerhunter's sound was reminiscent of UK band The Kooks – that is, if they were raised on biscuits and gravy.Arctic Monkeys have been supporting their new album with a 100-date worldwide tour, which began in May 2013. Their most recent stop was in Boston's Agganis Arena with Deerhunter as their supporting act on Thursday, February 6. They managed to turn the arena into a festival experience – and the crowd loved every second of it.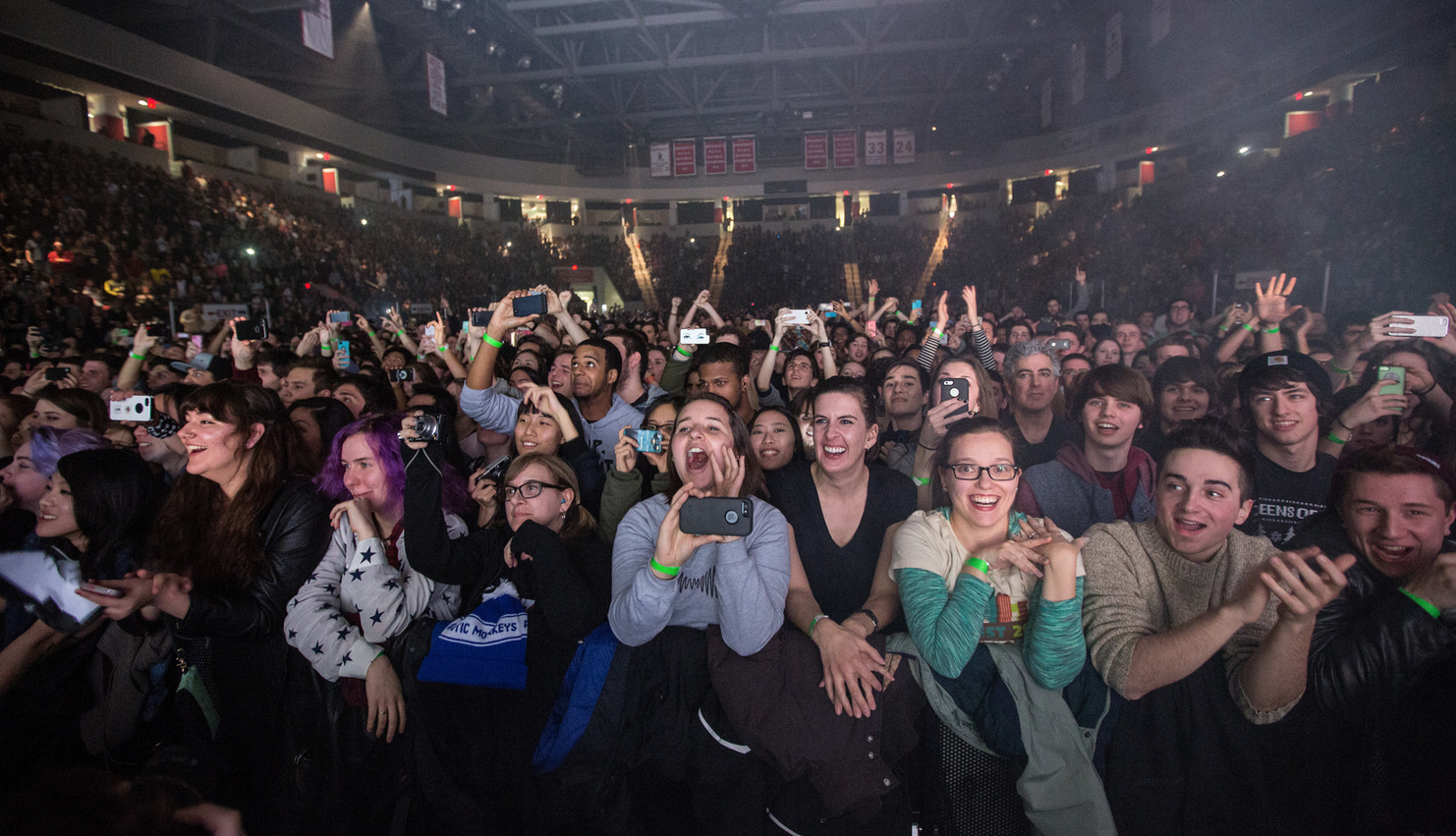 When the supporting acts for Arctic Monkeys' tour was revealed, some naysayers argued they should be opening for Deerhunter, not the other way around. But the British boys proved themselves worthy that night. While Deerhunter was timid and didn't fully embrace the rock star title, the Arctic Monkeys took that title to the moon.
As soon as frontman and lead vocalist Alex Turner stepped on the ominously lit stage, massive waves of energy could be felt throughout the arena. From his sinister hip gyrations, crooning baritone vocals, charming winks playing hide-and-seek under his gelled spit curls and overall rockabilly-meets-Elvis swagger, Turner's presence immediately captivated the audience. Drummer and backing vocalist Matt Helders kept the groove steady, while guitarist Jamie Cook and bassist Nick O'Malley churned out wicked guitar riffs. The band's 20-song set opened with AM's seductive first single "Do I Wanna Know," which was immediately followed by fan favorite "Brianstorm" that was over-the-top with vigor which was elevated with blood-red lights and a stomping bass.
The band continued with songs like "Crying Lightning;" "Arabella," "Reckless Serenade" which began a handclap-assisted, sing-along event, "Fireside" – a sensual, smoky cut on their recent album that unexpectedly did not grab the audience's attention and "I Bet You Look Good on the Dancefloor" – their 9-year-old debut single that remains a masterful pop classic. The concert's highlights were between "Dancing Shoes" – a upbeat tune from their debut album that brought audience back to an London pub in 2006, Humbug's "Pretty Visitors" – a menacing, Black Sabbath-tinged song with fire shot-orange, unpredictable lighting effects and AM's "I Wanna Be Yours," a dusty slow burner that felt like the last tug of a cigarette.
After the pleading yelps from the crowd as they left the stage, Arctic Monkeys came back for their perfectly-selected encore. It began with "Cornerstone", assisted by sparkling disco lights that transformed the arena into a cheap motel room – in best way possible of course. Following was "One for the Road," one of their more underrated songs that didn't grab the crowd at first but latched on eventually. Closing out the rousing night was "R U Mine," a song that is the definition of classic rock n' roll.
While Arctic Monkeys went through the major hits from all five of their albums, they mainly stuck to performing a great chunk of AM. But there are no complaints, as it is arguably their strongest album to date. There was not as much audience interaction they usually bring to their summer festival slots, and they ran through each song with little to no conversation which made it seem they were performing to the audience instead of for them. Nonetheless, Arctic Monkeys confirmed their status as one of the most exciting rock bands of this generation. After 10 consistent years in the business supported by incredibly devoted fans, they can only go up from here.
AM Tour Full Setlist:
1. "Do I Wanna Know
2. "Brianstorm"
3. "Don't Sit Down 'Cause I've Moved Your Chair"
4. "Snap Out of It"
5. "Crying Lightning"
6. "Reckless Serenade"
7. "Fireside"
8. "Knee Socks"
9. "Why'd You Only Call Me When You're High?"
10. "Arabella"
11. "Dancing Shoes"
12. "Evil Twin"
13. "I Bet You Look Good on the Dancefloor"
14. "Pretty Visitors"
15. "I Wanna Be Yours"
16. "Fluorescent Adolescent"
17. "505"
Encore:
18. "Cornerstone"
19. "One for the Road"
20. "R U Mine?"