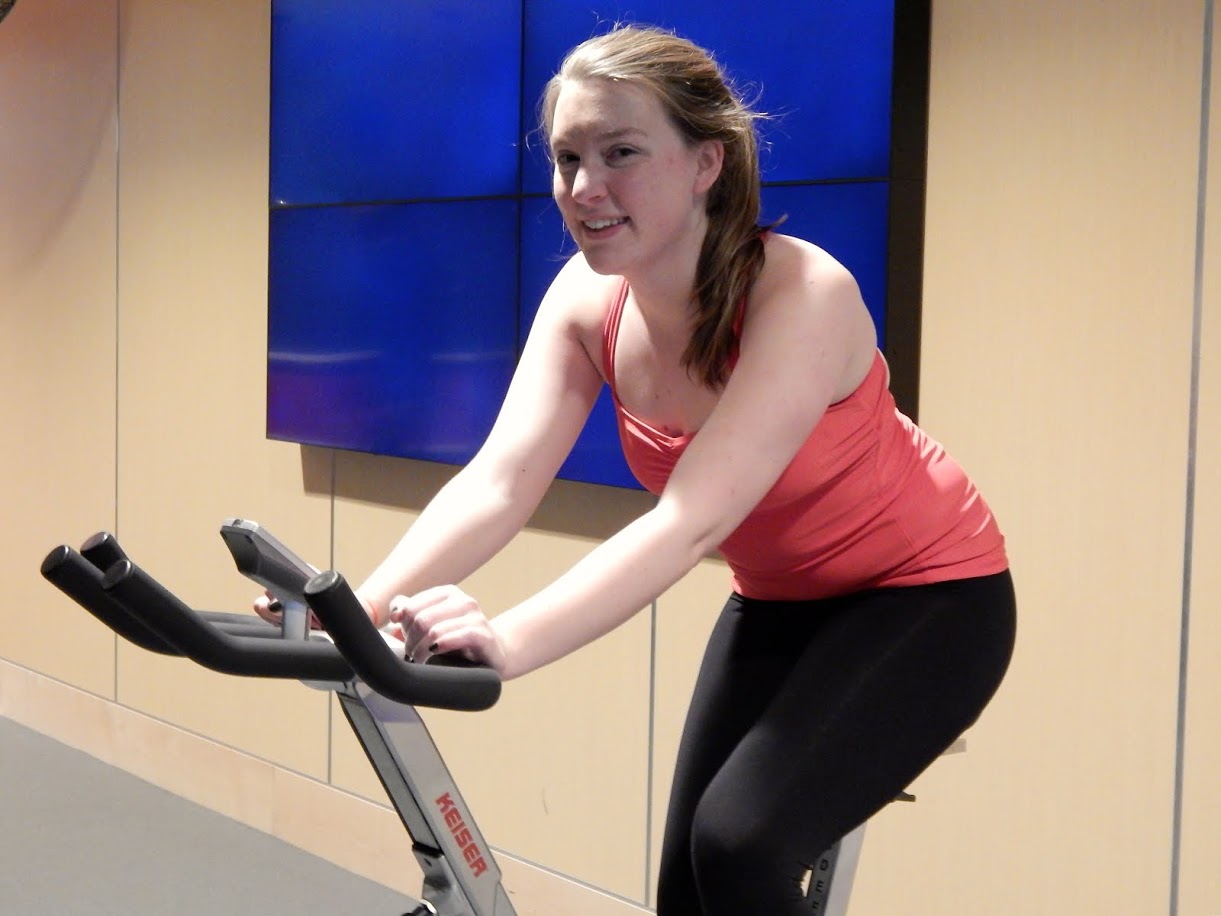 If you've headed to the new Revolutionz studio on the first floor of Marino, you've most likely seen Ali Sturtevant, a Group Fit cycling instructor. The senior political science major may not be hitting the ice at Matthews Arena to show off her figure skating skills for Group Fitness, but she is leading four classes a week to packed studios and loving every second of it. Sturtevant chatted with Woof about who inspired her to become an instructor, her favorite part of teaching, and what songs are currently on her workout playlist.
Q: What classes do you teach for Group Fitness?
A: I teach cycle 45 Monday at 6:00 p.m., Wednesday at 6:30 a.m. and Thursday at 6:05 p.m. Then, I do a cycle 60 class at 12:30 p.m. on Sundays!
Q: What made you decide to become a Group Fit instructor?
A: I've taken the Group Fitness classes since I started school here. I think our program is awesome and offers so much variety–we are very lucky! I decided I wanted to become an instructor because I wanted to mix things up, but it has been much more rewarding than I could've imagined!
Q: Why did you decide to teach cycling?
A: I had been riding for about two years before I decided to become a cycle instructor. I work the desk at a local studio, Recycle (get it, Re-cycle), and about halfway through an instructor's class one time, I realized that I wanted to be her. She looked so cool and was having so much fun making other people feel great! Seeing as becoming her is not possible and also is a little (lot) creepy, I did the next best thing and became an instructor!
Q: What is the most rewarding part of being a Group Fit instructor?
A: I can tell when riders are getting into the workout. I love looking around and seeing that all of them are giving their all and really pushing themselves. When they leave smiling and sweaty, I know I've done my job!
Q: What makes your class different from the others?
A: Cycling is different because instructors are limited in the amount of positions we can do. We don't want anyone to fall off their bike–tragedy would ensue! So, it relies a lot on the instructor's energy, motivation and playlist to keep things interesting for the class.
As for the difference between other cycling instructors and me, I've heard a rumor that I yell more? I can't attest to that though. I may get carried away sometimes, but it's in everyone's best interest! The Revolutionz crew is super fun–no matter who you take a class from, you are guaranteed a good time.
Q: How do you keep yourself motivated to go to the gym?
A: Getting out of bed to go teach my class at 6:30 a.m. is always the worst. The entire walk from my apartment to Marino, I'm having a conversation with myself (in my head, not out loud) deciding whether people will notice if I'm not there, thinking maybe they can do it without me this one time… Then, I arrive and all the students look like they had the exact same mental struggle getting there, but they followed through and are ready to go every single time. Being able to make sure their day starts off right gives me motivation for the rest of the week!
Q: What are the first three songs on your own workout playlist?
A: Right now, it's "Lady Killers" by G-Eazy featuring Hoodie Allen, "G.O.O.D.G.I.R.L.S." by The White Panda and "Elephant" by Tame Impala, but Matt and Kim, Two Door Cinema Club and The Strokes are usually involved.
Q: What's your personal favorite workout?
A: Cycling of course, but for the sake of variety… I enjoy running races. I have completed two half marathons already this fall! I love the atmosphere at the events and the challenge involved. I also think bananas are the bomb, and there are always bananas at the finish line snack area. Dancing is always fun, too!
Photo by Grace DiCecco