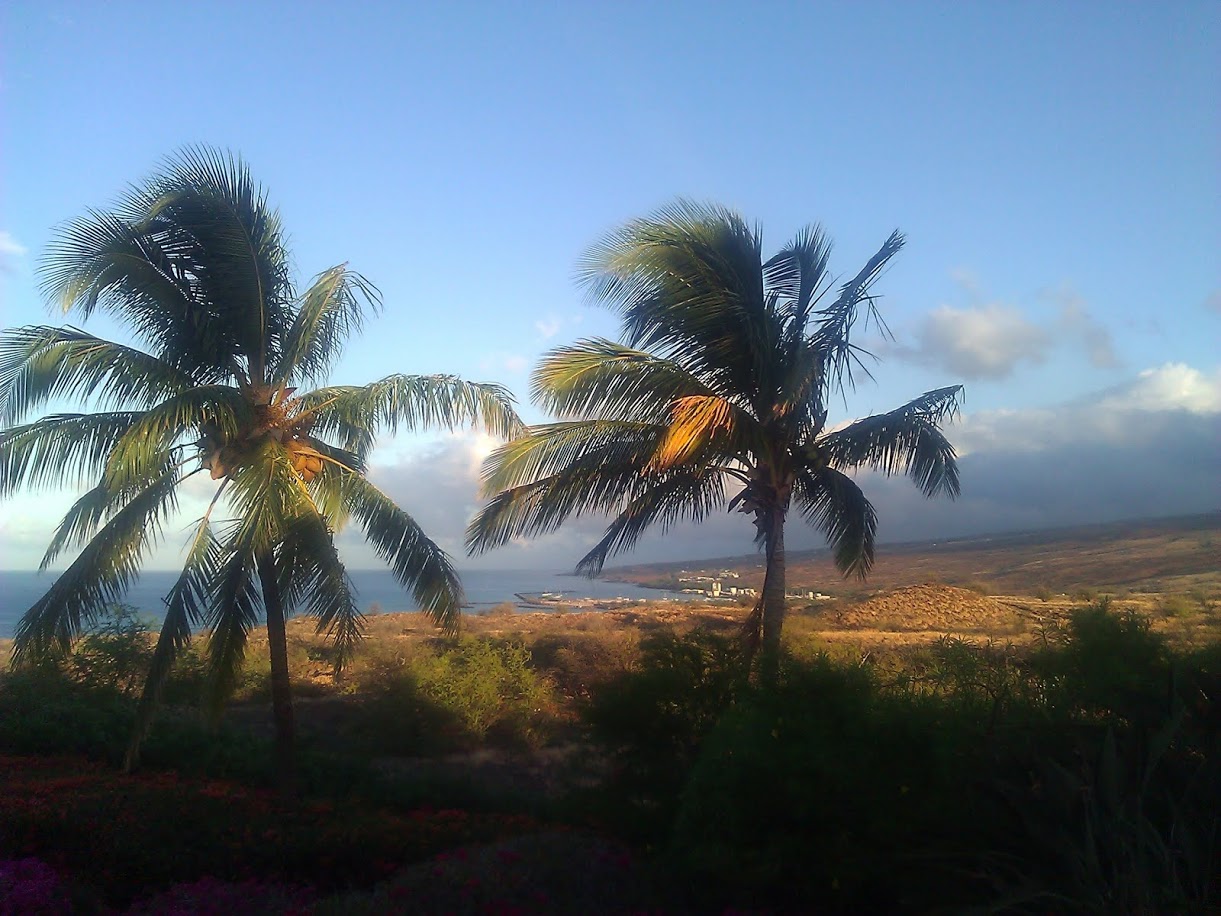 Disclaimer: I've been on this vacation before.
Of course, it's a little different every time – different enough to distinguish from one trip to the next, especially over the course of twenty years. You would certainly expect that visiting the same island over and over would get old, but I've always found comfort in its sameness. Hawai'i will never lose its magic for me.
Kona International Airport is miniscule in comparison to airports in the continental US. The baggage claim consists of one single conveyor belt under a wooden overhang with no other shelter from weather. It's the kind of airport that drags a set of passenger stairs up to the doors of the plane rather than leading you inside. The second you step off the airplane, you smell salt and warmth and plumeria flowers. After two flights, from Dulles to San Francisco and from San Francisco to Kona, it's the best welcome to the island one could possibly imagine. It's the first and last thing I remember about my vacation every time I come and one of the many unchanging, perfect things I cherish.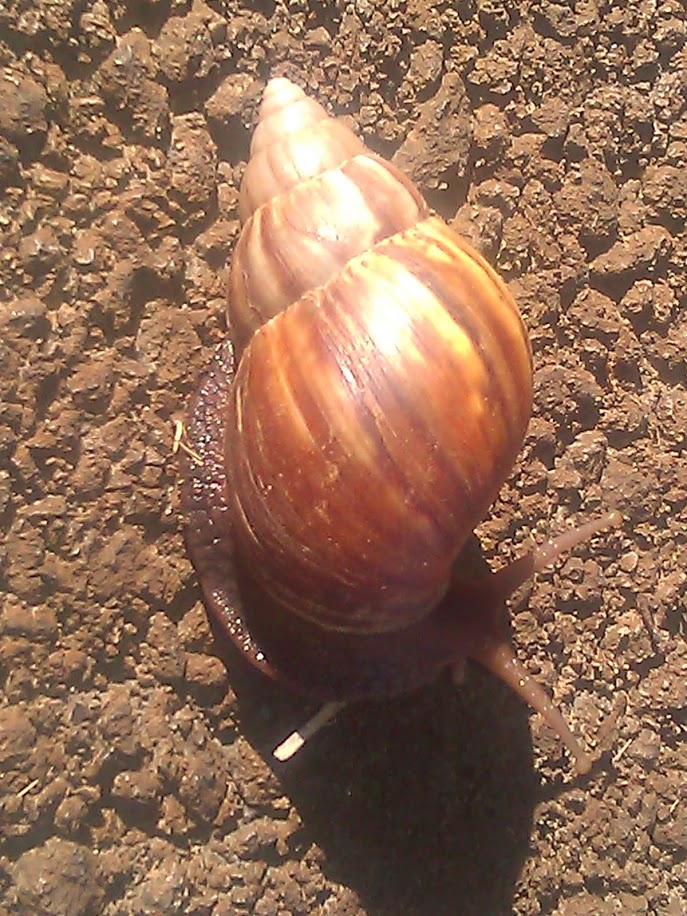 The big island of Hawai'i is home to four massive volcanoes – Hualalai, Kohala, Mauna Loa and Mauna Kea. They are steady, gargantuan reminders of how Hawai'i was born and how small and fleeting the rest of life is. Even as I've grown older through my years of visiting, I've always felt comfortingly tiny. Mauna Kea is the namesake of one of the oldest resorts on the island; the Mauna Kea Beach Hotel.
Built in the 1960s, the Mauna Kea hotel has looked almost exactly the same since I was a little tike running around the lobby with zinc oxide on my nose, harassing the squawking parrots that lived by the gift shop. I know every inch of that property; from the Hau Tree lunch spot on the beach to the tree I fondly dubbed the "Gecko Tree" by the side entrance of the resort. The resort is home to some of my all-time favorite memories and was the birthplace of some of my most precious friendships. When I was young and outgoing, I would walk up to other girls my age on the beach and say things like, "Hi, my name's Molly, would you like to be my friend?"
My parents and I consider Hawai'i to be our happy place. We are slightly different people when we're here, people unburdened by school, work and life. For two weeks, we care only about whether to hit the pool or beach first when we wake up that day; we're creatures of habit. We stick to what we know, for the most part: visiting the same restaurants, swimming in the same pools and at the same beaches. We honor the same traditions like eating a gigantic breakfast at the hotel restaurant the first morning of our trip.
This isn't to say we never try anything new. This year, we were joined by my aunt and cousins who encouraged us to hike along a gravelly, precarious path. We walked along the ocean from one resort property to the next, passing massive vacation homes on the way as we climbed from one jagged lava-formed cliff to another. My dad bought a fish unknown to our family, monchong, at the tiny fish market down by Kawaihae Harbor. The whole family loved it, expanding our horizons past our favorite mahi mahi and ono. My dad, a TripAdvisor aficionado, discovered what was voted the best sushi joint on the big island. Sushi Rock boasted a menu offering beef tenderloin and sweet potato, two things not usually found in sushi rolls.  Both my parents and my cousin Jack spent every moment that we were indoors playing a card game called Hearts, calling forward the competitive nature in each of them, documented by a legal pad that kept perfect score.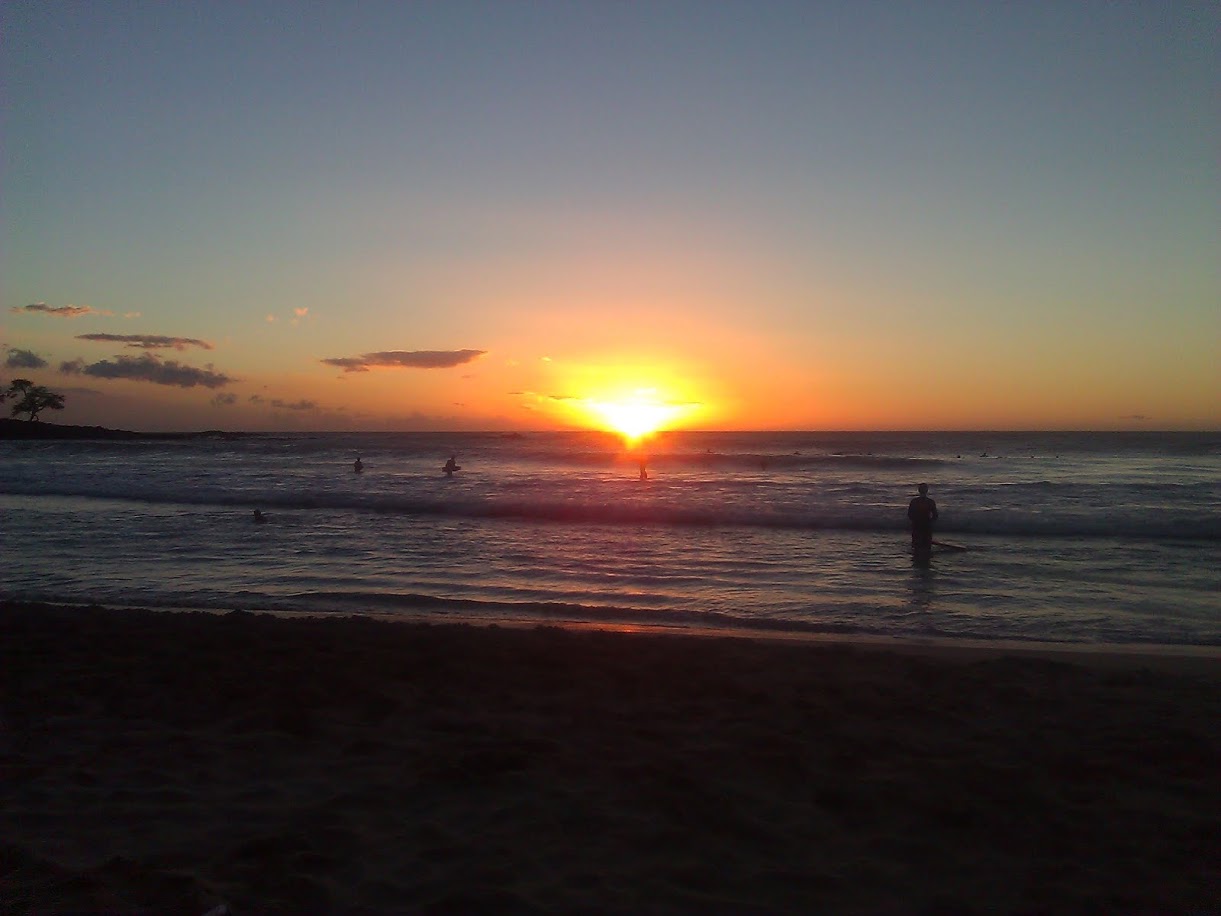 We stayed for two weeks starting on December 16th through December 30th, bringing us back for our second Christmas on the island. Being from Washington, D.C., I'm not exactly used to a white Christmas, but seeing Santas wearing colorful printed Hawaiian shirts and palm trees with sparkling white lights is a whole new kind of holiday. One particularly strange moment came when my family was relaxing by the pool playing Christmas classics by Bing Crosby and Perry Como on our stereo. They crooned about snow blanketing mountaintops and cozy, chilly nights while we sat sipping fruity drinks, smiling with the sun in our hair. It was certainly different.
My aunt brought along a blast from the past; a Polaroid camera to further document our adventures together. What first began as a tool to capture sunsets and our own personal Hawaiian-themed Christmas tree became primarily a selfie-producing machine that even our parents joined in on. We involved various goofy props like oversized sunglasses and little decorations from our tropical drinks. At the end of our trip, we collected them all in a scrapbook surrounded by island and Christmas-themed stickers, spotted with buzzwords from our vacation to remind us of the amazing time we had for years to come.
One thing I know for certain will never change; the last deep breath I suck in as I climb up the steps into the plane back to the mainland. I hold onto it as long as I can before I have to let go. I watch the island shrink into the Pacific as we head back to reality and my parents and I joke about running away back to Hawai'i for the next several weeks. We return to our daily lives, humming Israel Kamakawiwo'ole's "White Sandy Beach of Hawai'i" under our breath, waiting until we can once again say Aloha to our happy place.While we often eat at the same restaurants and visit the same beaches, our buzzwords are different each time we come. Hawai'i has seen my family change and mature during every visit, and we are comforted by its consistency. We try to relive past trips that hold fond memories. Without trying, we discover new adventures that we'll remember just as fondly.