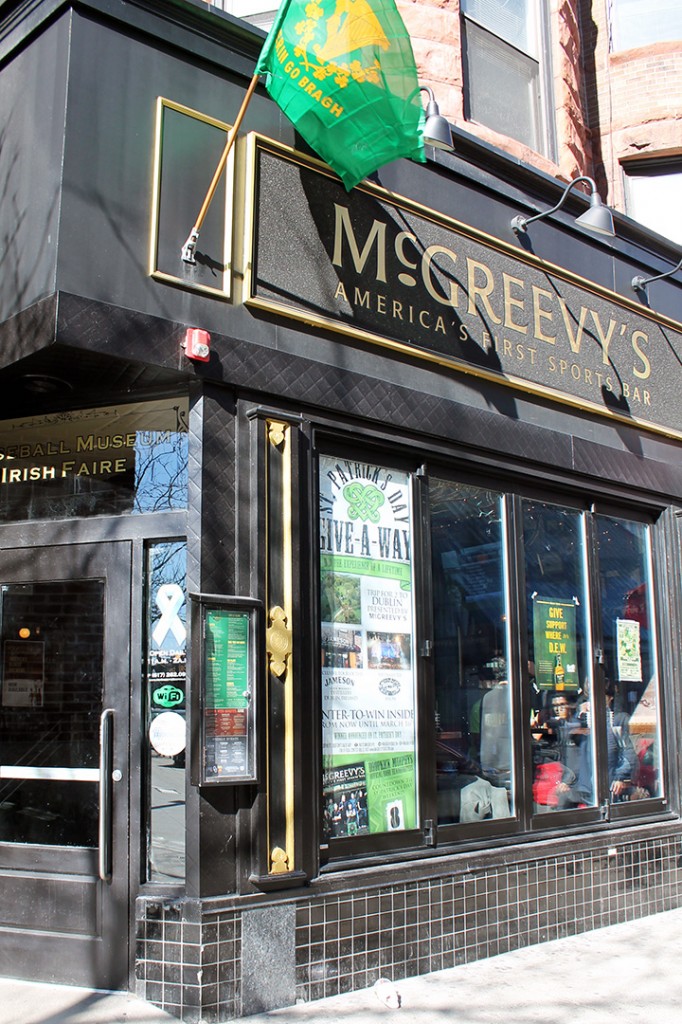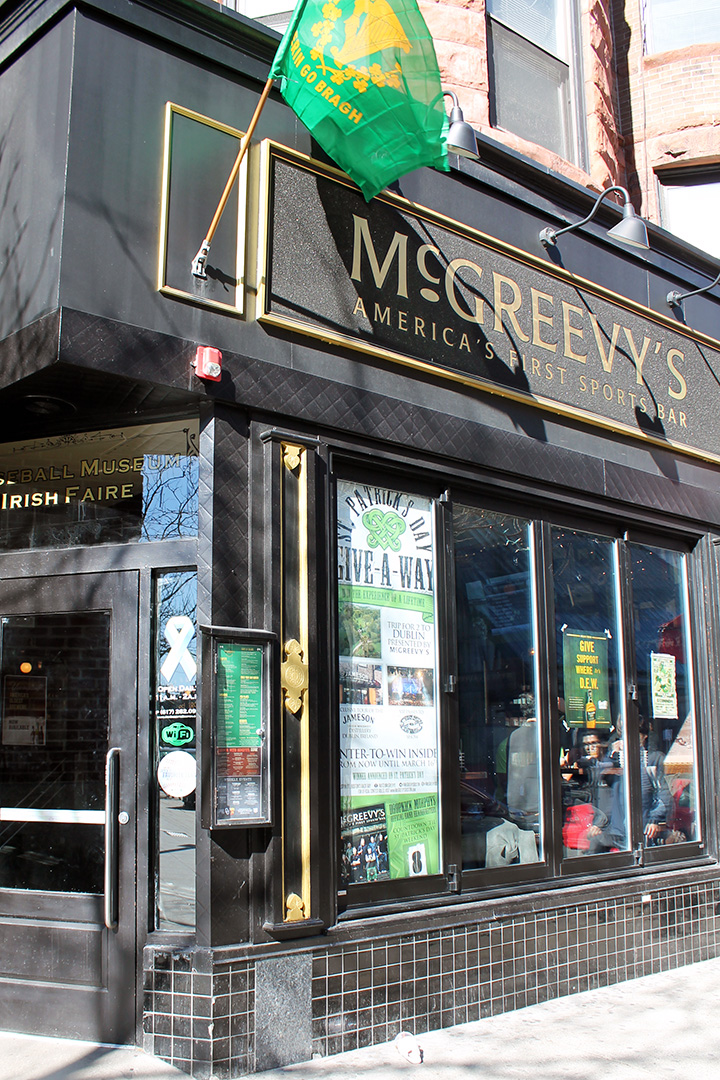 It's basically a Boston rite of passage to pack yourself onto the red line with too many other eager Bostonians pretending that they might have an ounce of Irish blood in their bodies to head to the St. Patrick's Day Parade. For those who are both over 21 and at the "been there, done that" point in their lives regarding the parade, I hear you and I'm here to help. I ventured out to a few Irish pubs and bars close to campus to perform some – ahem – research.
McGreevy's Boston
911 Boylston Street
Located across the street from Hynes Convention Center is McGreevy's, advertised as America's first sports bar. With seating right next to the windows, facing the street, this could potentially be one of the best St. Patrick's Day people-watching sites. The interior is dimly lit and decked out with Boston sports paraphernalia. Raised tables and a bar on one side creates a fair amount of open space. While it rocks a chill vibe on a Sunday afternoon, one can expect that the open space morphs into a packed crowd on weekend nights. If it's an authentic Irish pub you're looking for then search no further. Irish pub fare, like corned beef sandwiches, and Guinness on tap provides a relaxing true-to-its-roots Irish meal. Check out the website for St. Patrick's Day giveaways, including a trip to Ireland for two, a tour of the Jameson Irish Whiskey factory, and VIP passes to a Dropkick Murphy's show.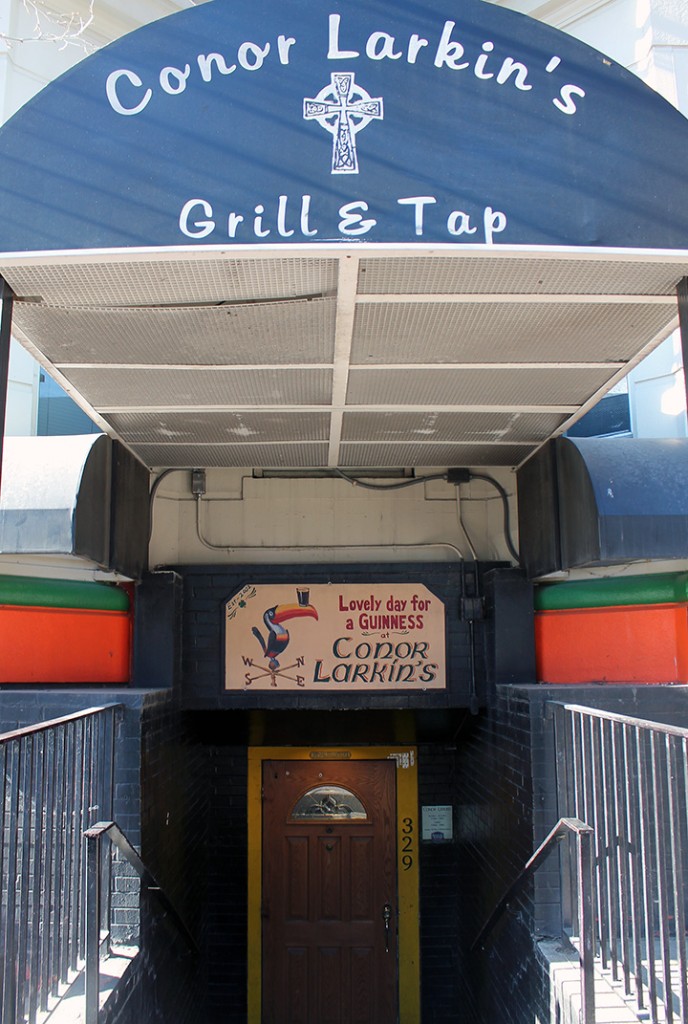 Conor Larkin's Grill and Tap
329 Huntington Avenue
Anyone who's ever celebrated a 21st birthday knows Conor's and knows that the place is full of Irish spirit. Connor's gives off a casual feel that's perfect for grabbing a drink of celebrating what real or delusional Irish heritage one may have. This college atmosphere is complemented by its pool tables, board games, and other great amenities for friends to have some fun with. What's even more fun is the gem of a drink Connor's has to offer: The Shamrock Shake Shot. It's a minty green miracle, that you'd think you could only find at the end of a rainbow. Here at Woof we conducted some hard research into this magical beverage and with a few under our belts we're happy to say that Conor's is sure to satisfy your St. Patrick's Day plans.
Flann O'Brien's
1619 Tremont Street
Flann's is the bar that requires the largest trek, but don't let this discourage you because it's surely the classiest of the lot. It's conveniently located right up the street from the Brigham Circle T stop which makes this a must visit location for everyone's St. Patrick's Day shenanigans. You'll immediately notice the Flann's in built with a beautiful stone exterior putting any typical college dive bar to shame. Serving brunch as well as booze, including a Guinness Breakfast Challenge, Flann's is the perfect place to recover from any pre-St. Patrick's Day parties. After all, what can get rid of a hangover better than an overload of carbs, a hefty dose of protein and more alcohol?
St. Patrick's Day is fast approaching, which means your plans should be worked out now. Unless you're the type who'd like to get stuck fighting through hordes of people on the T only to arrive in Southie at the back of a crowd who's obscuring your view of the parade. Perhaps it's in your best interest to take our advice and check out some Irish pubs and bars around the neighborhood. Have a happy and safe St. Paddy's Day!
From myself and all of us at Woof (who are over 21), Cheers!
_____________________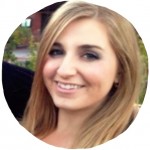 Jordan is a health sciences student in the pre-med program from Rochester, NY.  She is proud to say that her work has only been featured in Woof Magazine, because she's super exclusive like that.  When she isn't dousing herself in glitter with the hopes of becoming Ke$ha, Jordan enjoys long plane rides, embarrassing herself in Zumba class, baking sinfully delicious cupcakes and spending money that she doesn't have on Newbury Street.