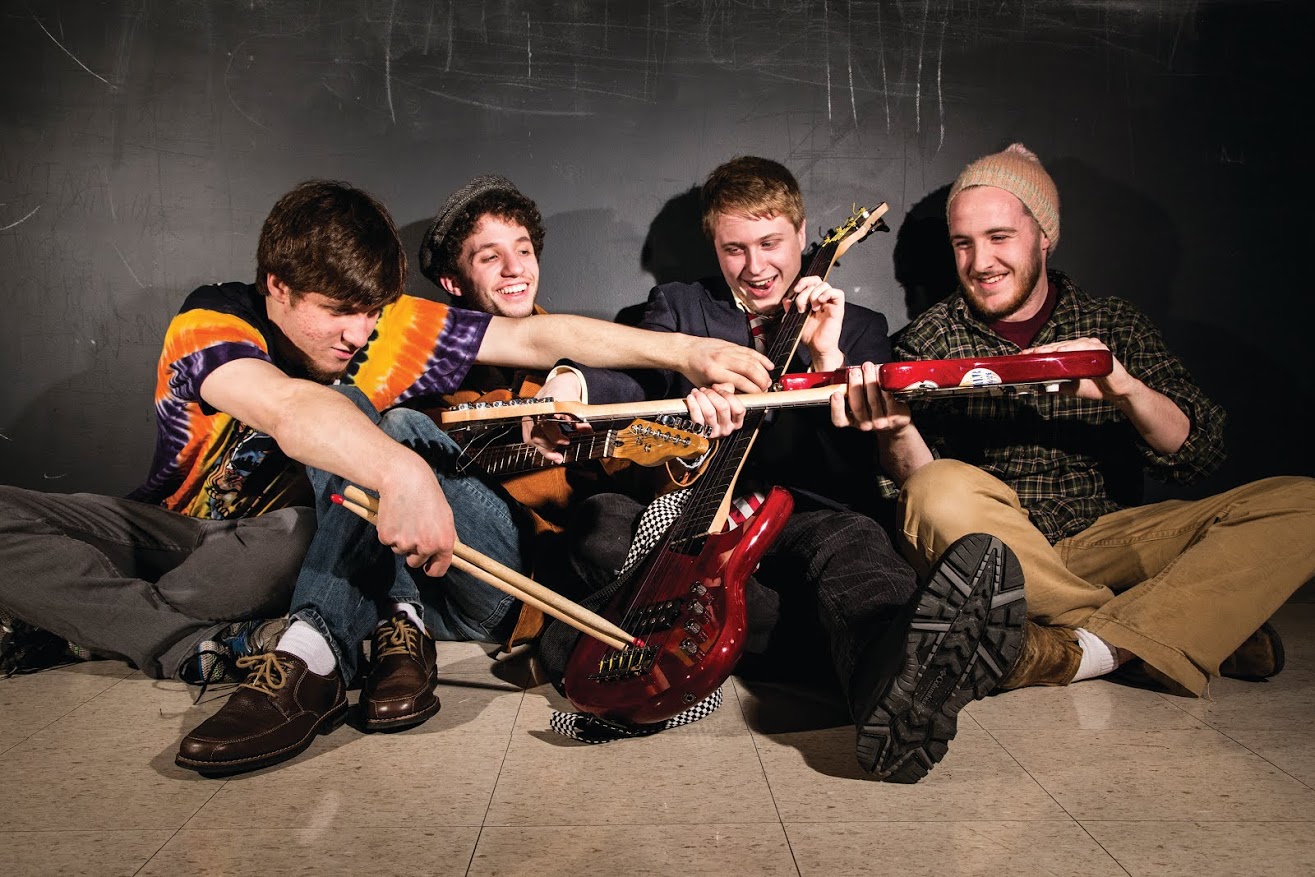 Photos by Leah Corbett
When taking a quick glance at the members of Northeastern indie rock group Best Dressed, they appear to be the typical cool college students you would like to kick back and relax with. But beneath the surface, the band—composed of Northeastern students Charles Perrone, Will Clune, Ben DeUrso and Jon Hill—is full of diverse personalities bound together by one element: a passion for creating true rock and roll.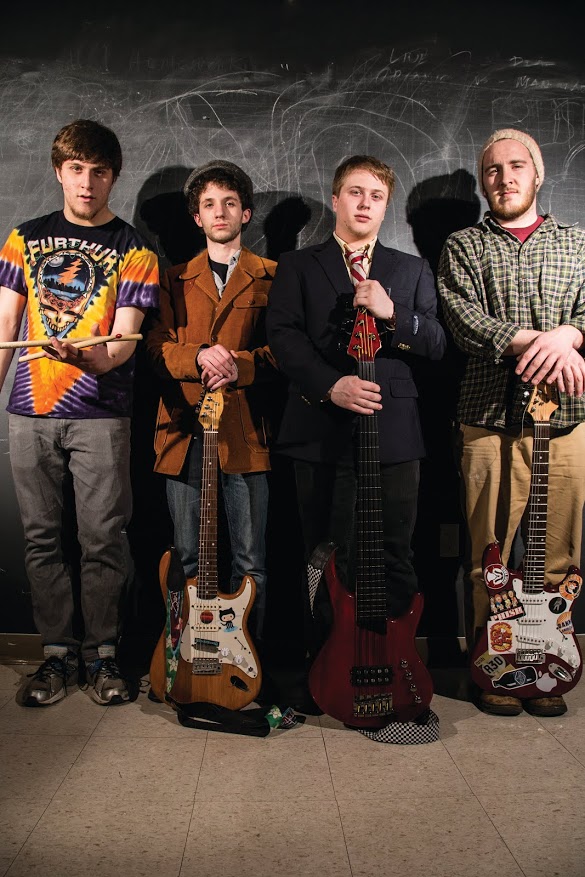 DeUrso, a music therapy major from Somers, N.Y., is the humorous and lively drummer of the band, while bassist Hill, a psychology major from Poughquag, N.Y., remains more soft-spoken and focused. Lead guitarist Clune, a music industry major from Scotia N.Y., has a charmingly laid-back and sociable demeanor, and lead vocalist and guitarist Perrone, a computer science major from Vista, N.Y., rounds out the band with his mellow aura reminiscent of psychedelic musicians of the '70s.
Though all but Clune are under 21, once stripped of their age and university affiliation, Best Dressed is a group adamant about making an everlasting mark on the Boston music scene. "Our sound may be like [indie bands'], but we're not musically technically playing like that," DeUrso explained. "We're moving in a new direction right now, we're getting very folk-oriented. We're putting in jam band influences as well."
Overall, the band describes its sound as "clever songwriting with an attention to mood and texture," leading to an experimental vibe tinged with funk, psychedelia and folk flavors. Inspired by Radiohead, Deer Hunter and Pixies, they strive to create an atmospheric sound. As for their unique name? "That was me," Perrone admitted. "The only gripe I have with it that it makes us seem like a zoot suit, indie pop group – which I guess can be sort of the allure, because the Pixies, their name is very misleading and then you listen to them and they're so hardcore."
Perrone was the first to imagine what would eventually become Best Dressed, and the rest of the band was added gradually. "Charles had an idea for a project and added us on piece by piece," Hill said. After meeting DeUrso, Perrone asked him to collaborate. Hill, who lived two doors down from DeUrso on Kerr Hall's music floor, was added after the two began playing together. Clune was then brought into the band after the previous vocalist left the group.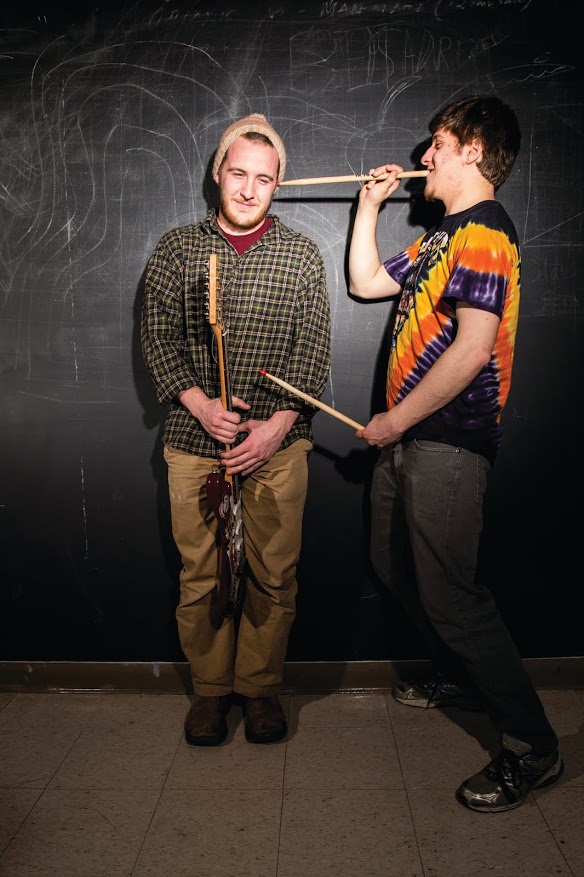 After meeting, Best Dressed was officially formed in October 2013. Like many artists and bands at Northeastern, Best Dressed got its big break thanks to Green Line Records, the campus' student-run record label. "Charles and I were brought together by Brandon Pascua, who is an artist signed to Green Line Records," DeUrso recalled. "He's a solo artist who writes all the parts to his songs for every instrument – piano, guitar, bass, drums and vocals. He needed a backing band. So last semester, we played at Busking Day in October [with him]."
DeUrso said he likes the affiliation the record label has with the university, as well as all the opportunities that have arisen since their initial signing, including their first live performance on campus in November, Northeastern's EmpowerFest celebration and Jamaica Plain's Midway Cafe.  Hill, too, enjoys the band's recent tastes of fame. "When I see people enjoying the music from on stage, that's a big part of why I play, to share it with people and have them enjoy it," he said. "It makes me pretty happy; it's sort of like success."
While at times it is hard to get recording space, which Green Line has combated with a newly-constructed studio in Snell Library, there have been few limitations for Best Dressed. Clune said he likes that the university doesn't restrict students' artistic freedom. "I think, in general, Northeastern fosters a creative mentality for musicians," he said.
DeUrso agreed. "I was surprised at how great the music community here is. We've gotten a lot of opportunities, like working with Professor Robert Lyons, who does a live audio recording class and has bands come in [to demonstrate]," he said. "It's a nice way to pay homage to Northeastern."
The band members share future plans of playing at major festivals like Bonnaroo and headlining a North American tour, but for now they're sticking to simpler projects like sharing their music city-wide. They are working on their first EP (set for an April release), as well as planning a massive show where they will play Pink Floyd's iconic album "Dark Side of the Moon" with other Green Line musicians.
As they work toward those goals, Clune said he is proud of the band's individuality among a sea of competitors. "Bands out here, not that they're doing similar things, but they're doing things you've probably heard before," he said. "I don't think we're doing anything other people are trying to do."