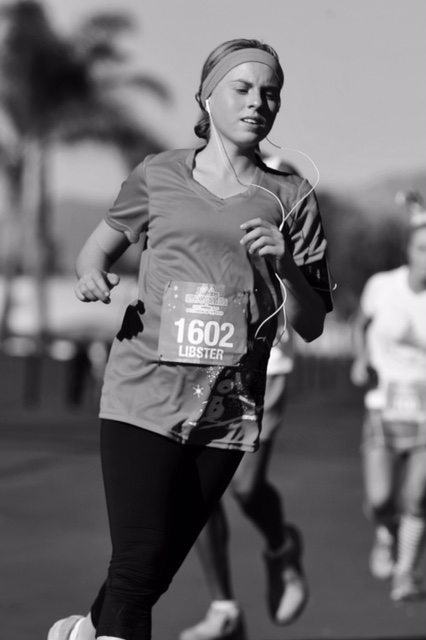 Boston is notorious for being a great city for with runners. We are blessed with easy access to great running paths like the Esplanade, flanking the Charles River with a 3-mile route, the Boston Commons, as well as various parks in Jamaica Plain, the South End, and Roxbury. Plus this city is home to the Boston Marathon, one of the most rigorous and celebrated races held every April.
I was never what you would call an "avid runner" until last year. I was inspired when I attended a charity event for my friend, mentor, and fitness instructor, Melinda Sarkis. She spoke about her mother battled a stroke and how she committed herself to train for the Boston Marathon that year while raising money for Tedy's Team, an organization that raises money for victims of strokes.
I started with registering for a 5k then embarked on a 10k and later finished my first half and then full marathon just this past April in Nashville, TN. As a full-time student however, it can become tricky to train while juggling classes, extracurriculars, and have a social life.  But many find it meaningful and worthwhile to try and tackle before graduation, so to help, I've compiled some of my best tips on how to train while maintaining a normal college lifestyle.
1. You'll need to set aside roughly 16 weeks to properly train for your first marathon (about 10 weeks for a half) and be able to devote 10-20 hours per week for training. Be aware that because of the more running you doing, you are also more susceptible to injury. Also pay attention to the weather you will be primarily training in and take precautions of how to dress properly.
2. Find a plan that works for you. Many websites, apps and magazines offer programs to train for marathons. Find one and try your best to stick to it but make sure it's doable. If you aren't a morning person don't convince yourself that you will run every morning at 6am. Write it down, add it to your planner and incorporate your weekly runs into your regimen.
3. Focus on nutrition. Your body can't sustain for 26.2 miles without the proper fuel. A balance of lean proteins, plenty of fruits and vegetables and fiber will fuel a healthy lifestyle. I'll never advocate for taking something out of your diet, rather the aim should be to eat a wide variety of healthy food and if you want the slice of cake from time to time it's totally fine!  But do try and limit excess sugar, alcohol and caffeine. These things can all dehydrate you which is not good for when you have long runs.
4. Proper Footwear. I suggest going to a store such as Boston Marathon Sports or South End Athletic Company and have an expert there fit you for the proper shoe. A lot of injuries can be prevented from wearing the right sneaker. Since you are investing the time in training don't skimp on the single most important accessory to get you across the finish line.
5. Look for smaller races leading up to the big day. Setting up milestones leading up to your big day can help make the daunting task of 26.2 seem easier. Maybe find a 10k or half marathon mid-way through your training schedule to test your progress and also get yourself accustomed to how races operate.
6. Power in numbers. Two is always better than one. Have a good friend who is also a runner? Have a sorority sister or classmate who is looking to train for a race? The buddy system is always a great way to keep on track and also make the time spent training fun. Sign up for races together and you'll instantly have a cheerleader for you the whole way!
7. Rest! I know it sounds impossible considering finding a properly rested college student is unheard of, but the average person needs 7-8 (and sometimes even more) hours of sleep each night. Our bodies preform their best when they are taken care of right, so if you take the effort to get a full night rest training will become much more productive.
8. Plan your long-runs accordingly. If you typically go out all weekend to parties and the bars, consider denoting one night a week to staying in and sober. If you go out Friday each week, save your long run for Sunday so you won't be hung over.
9. Cross train. While you may be running 3-4 days a week be sure to add some other form of low-impact exercise to your schedule. This can include yoga, barre, Pilates, weight training, or spinning. It's important to work the other muscles in your body as well as length and stretch them. You'll also keep yourself from getting bored by mixing up the workouts.
10. Stretch.  A lot of runners suffer from hurting their IT bands and also encounter foot and knee injuries. Many times these can be prevented by making sure you stretch before and after your run. Utilize a foam roller if you notice you are getting sore and pay close attention to your body—if you are starting to hurt in your knee maybe take the next day off.
These are just a few tips I found most helpful as I went about my training and look forward to my second marathon this January in New Orleans. But regardless, remember that training for anything, 5k, 10k, half, full marathon– you are above the norm. In fact, Runner's World magazine estimates that only about 0.5 percent of Americans ever aspire to tackle a marathon.
So lace up the sneakers, grab your iPod, and see you running by the Charles!
Libby Leyden-Sussler, journalist, world traveler, and fitness fanatic. Follow my adventures in Boston and abroad on Instagram and Twitter.