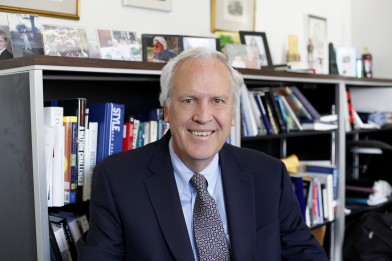 This past week we bid a sad farewell to Professor Stephen Burgard – a veteran reporter, editor and author who had served as the director of the School of Journalism since 2002. Professor Burgard passed away suddenly last Sunday, Oct. 26 while on sabbatical. He was 66.
I've been in the Journalism department since my first day at Northeastern. In my opinion, one I believe I share with many of my peers, the faculty is an overwhelming contributing factor to the excellence of the program, of which Professor Burgard's role cannot be overstated. He was a quiet but constant presence in the department, for both the faculty and the students. Helpful, available and always willing to listen.
In the early days of Woof Magazine, we had our share of struggles. Being a fairly new student media organization at a large school has its obstacles, but never once did the journalism department contribute to those obstacles, except in helping us to overcome them. When I became editor, I, frankly, was a little lost, but found the support and guidance the staff and I needed within the faculty and Professor Burgard, who applauded our efforts as a budding publication and allowed us all the lab space and time we needed to work. I cannot thank him enough for that support and freedom to work that has allowed us to create the magazine we do.
Last fall, when the College of Arts, Media and Design proposed combining the School of Journalism with the School of Communications, eliminating Northeastern as one of the last solely Journalism schools on the East Coast, the students and faculty alike were dumbfounded, upset and confused. Several students organized a petition, then a meeting with the CAMD dean Xavier Costa, to discuss our concerns, of which there were plenty.
The lasting image I have of Professor Burgard is of him in attendance at this meeting. He joined us – 30 or more journalists and students, with all different disciplines, investments, levels of experience and interests, crowded in a tiny room in Ryder with the same purpose. The tension was palpable and we were scrambling over one another to get our questions inside the allotted time, but Professor Burgard never spoke. We, his students, did just as we had been taught – led the conversation, asked the tough questions and expressed our outrage in a quiet, authoritative and well reasoned manner. He didn't have to do anything but look on proudly. I hope we all continue to strive to aspire to that pride.
Thank you, Professor. You will be missed.