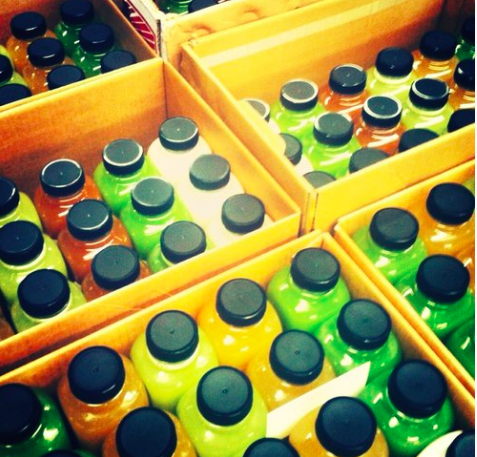 Melina DiPaola, an Emerson College graduate, is proud owner of one of Boston's hottest juiceries, E.t.c. Juicery. DiPaola started her company while still a student at Emerson College. "When I was in classes I made juices for people I knew but then it slowly began to blow up. There was already such an industry for juices in places such as NYC and LA but there was really nothing comparable here in Boston," explains DiPaola. "I knew it was just a matter of time before the juice craze would take off so I bit the bullet and purchased my first cold press, and once you commit that you have to do it and with that, E.t.c. was born."
When DiPaolo was five, she was diagnosed with a brain tumor—a pilocytic astrocytoma—and this launched her into the world of medicine, and eventually holistic medicine. Although she had to have numerous surgeries (most of them taking place at Boston Children's Hospital), her parents were big advocates of less-invasive treatment including constant acupuncture sessions, dietary switches, and, of course, juicing. She also hails from a unique culinary background, as her father is a chef, therefore she grew up learning about flavor balance as well as the health benefits all of which are needed to create an amazing product which she, and many others, believe to have accomplished.
E.t.c. stands for "electron transport chain" which is this process in the mitochondria of every cell where there is the conversion of food energy into useable energy. A fitting name, for a company that stresses the nutrients from the juice can be used to help you power through your day. But why should you do a juice cleanse?
"If you are strictly doing a juice cleanse to try and restrict calories to lose weight quickly myself and nutritionists will agree that this is not ideal," says DiPaola. "I tell people to think of a cleanse as a 'reset'. If you are feeling sluggish, if you overate for a few days over a holiday weekend, by doing a juice cleanse you will not only decrease your caloric intake for 3-days but you will come off it not craving those high carb, sugar, fattening foods. You will surge your system with nutrients and antioxidants and it will kick-start you back into a healthy regime again." As someone who is super active herself, DiPaola recommends simply adding in a juice here or there to get the nutritional benefits but not to do a full cleanse because you simply won't have enough energy.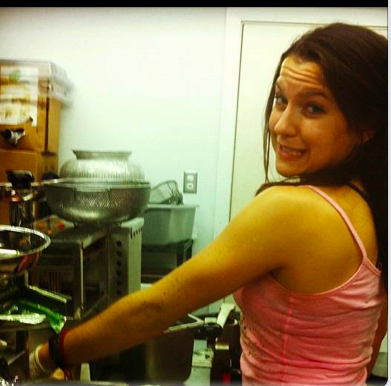 As a young entrepreneur DiPaolo has learned a few helpful tricks along the way to making E.t.c. a success.
"I use social media predominately to get my name out there, Facebook, Twitter, Instagram as well as a lot of word of mouth. I think the most important thing to do is immerse yourself in the field. I regularly attend other fitness classes, speak to trainers and nutritionists who are on the cutting edge of new research, and I listen to podcasts and read a lot." She also keeps several to-do lists and meditates regularly to stay focused.
Since E.t.c. started in early 2012 it has grown in popularity and after several months of planning DiPaola is close to revealing her latest project: ride. Her very own fitness boutique studio located in Boston's North End.
"This has been a long time coming but essentially I wanted to open a one-stop shop of fitness and juice. The studio will have a spin studio combined with a cross-training component to it," explains DiPaola. "I grew up in the North End and traveled to various other parts of the city to get my fitness fix, but felt there was something lacking in my own community for high intensity adrenaline workouts. I am excited to see this project come into place and the exact date for open house will be announced soon."
DiPaola is a fitness veteran, she has been certified in Mad Dogg for indoor cycling, she has taught spinning at a gym in Woborn, MA, is kettle bell certified, is working towards her NASM certification, and teaches megaformer at Btone Fitness on Newbury Street.
As a former college student DiPaola offers this advice as winter is quickly upon us, "Fit your workout into your schedule, pack clothes ahead of time, find a gym or class that is convientently located to you, and sign up in advance (or with a buddy)."
Have a happy Thanksgiving Huskies and if you need a quick "reset" after all the turkey and stuffing be sure to follow E.t.c. Juicery on Facebook & Twitter and for the latest information on r.i.d.e. studio check out: ride north end
Libby Leyden-Sussler, journalist, world traveler, and fitness fanatic. Follow my adventures in Boston and abroad on Instagram and Twitter.