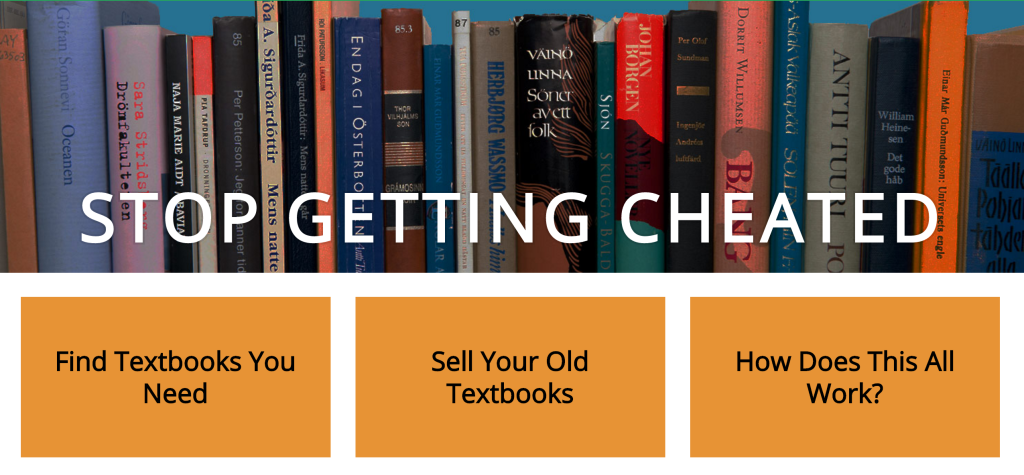 "STOP GETTING CHEATED" are the words that catch the eye when the browser opens up on www.studentrabbit.com, an e-commerce platform for college textbook exchanges developed by third year Northeastern student, Saman Baghestani. As the finance and entrepreneurship major puts it, "StudentRabbit simply connects students with one another. It asks you what [books] do you need for next semester? What do you no longer need from the prior semester? … then [StudentRabbit] matches everyone together and lets them buy and sell their books from one another." For college students, StudentRabbit is a means of mitigating the financial and emotional burden of the pre and post semester textbook hustle.
The higher education textbooks market is an $8.8 billion industry,  over 80% of which is controlled by five major publishing companies. Studies conducted by the College Board and the Government Accountability Office found that an average student spends $1,200 on textbooks annually; between 2002 and 2012, prices of textbooks rose by 82%, nearly three times the rate of inflation. With rising prices and a monopolized market for books, 65% of college students have opted out from purchasing one or more textbooks due to cost. Many students have turned to the secondhand market or illegal acquisition of books via the internet, according to the Student PIRG.
In his freshman year of college, Baghestani came across this information and realized that "not only is there a problem with how expensive [books] are to buy, there is an equally disastrous problem when it's time to sell them." In what he calls a "lightbulb" moment, Baghestani created StudentRabbit.
Launched in December of 2013, the e-commerce platform has experienced major successes to date. The young company has reached 1,500 users in a span of five months and has successfully transacted over $100,000 worth of books while operating with what the founder called a "shoestring budget". More recently, StudentRabbit was granted the $10,000 Gap Fund from Northeastern's own venture accelerator, IDEA, and is working closely with students at SCOUT, Northeastern's design studio.
For Northeastern students, Baghestani believes that in respect to the rising costs of books, "there is a definite potential for us as a community of students to finally put our feet down and say 'no more'."
The company is taking advantage of the age of "hyper-connectivity" and social networking by encouraging students to connect through the platform and benefit from one another both for social purposes and for textbook transactions. For Baghestani, coming together through StudentRabbit means "greater community", and an easy way to "translate [hyper-connectivity] into tangible monetary benefits."
Baghestani understands that connecting with strangers may take consumers outside of their comfort zone, and therefore urges users to overcome this initial discomfort for the sake of the community's greater goal of a cheaper and more efficient use of textbooks.