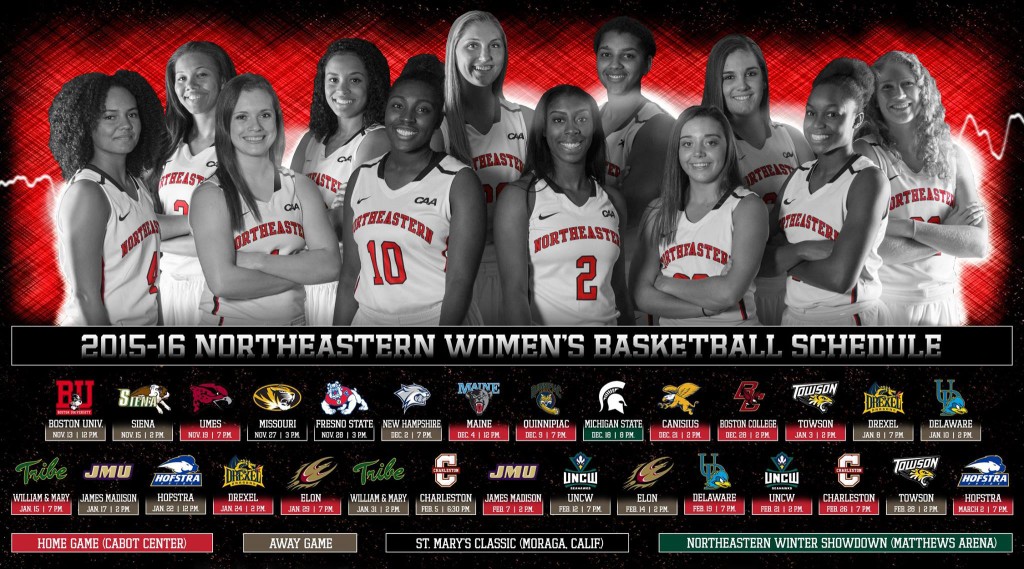 The Girl's Basketball Team ended last season with a 4-25 record; however, despite the losing record, season head coach, Kelly Cole and assistant coach, Gayinat Adeduntan, believe that it was a year filled with improvement, especially for a transition year with a new head coach. "At the end of the season last year, people go, 'Oh man, you were 4-25. That's a rough year,"' remembered Cole. "No doubt it was a rough year, but it was also a huge growth year. Where we started from and where we ended was just a mind boggling difference."
After last year's development, the coaches are hoping for more. "We're taking the things we learned last year and building on them. We're using the experience of our upperclassmen and leaning heavily on the excitement of the incoming players," said Cole. "It has really infused a new excitement, a new energy, a new work ethic into everybody and it has given us a new attitude moving forward."
The team's record last year acts as motivation for the athletes, according to Cole. "Everybody's the biggest threat," said Cole. "Everyone that we play just about beat us last year, so we can go in with a chip on our shoulder. I don't think there's any one big foe; we're just looking to get back at everybody."
The team lost three seniors last season, including guard, Tanisha Hopewell, guard, A'lece Mark, who finished seventeenth all-time in career points and guard, Amanda Mercier, who is currently signed to a professional German club team and finished her time at Northeastern fifth all-time in career assists. With the loss of these seniors, the coaches are looking for the remaining players to shine.  "It's going to be a real team effort, and it will be interesting to see who's going to rise to the top," said Cole. "We have a great core of returners coming back. We're returning three starters and we've got a fusion of new excitement and new energy with the freshmen."
Senior forward, Samantha DeFreese, is a player to watch, according to Cole. DeFreese finished the 2014-2015 season with an average of 13.9 points per game and seven rebounds per game. She was also named in the 2015-2016 Preseason All-CAA Second Team and the 2015 St. Mary's Thanksgiving Classic All-Tournament Team.
The Huskies gained point guards Jess Genco and Te'Erica Eason, forward Gabriella Giacone, who was named Colonial Athletic Association (CAA) Rookie of the Week on November 16th, shooting guard Zoe Zwerling and sophomore transfer guard Claudia Ortiz for the 2015-2016 season. According to Adeduntan, the five new players have positively affected the team's work ethic. "They're in the gym and that's contagious to the people that have been here," said Adeduntan. "When they see the newcomers in there getting extra shots up, it makes them want to get in there as well."
On the court, the team is concentrating on working together and improving their defense. "I can't be telling you our weaknesses," said Adeduntan, laughing. "We really want to play team basketball. Defense has always been our focus this year and that's something we're continuing to get better in."
The athletes have a new attitude this season, according to Cole:
"The new attitude probably comes with a little more confidence, a little more fight and a little more commitment believing in the fact that we've done what we needed to do to deserve a victory." 
The coaches would like to measure the success of the season on growth rather than the team record. "We're not focused on the results. It's more about the process," said Adeduntan. "We're talking about commitments and controllables. What can we do as individuals and as a team as opposed to 'We want to win this game.' What can we control, like getting extra shots up, being good teammates." Cole believes focusing on the mindset will translate to success. "What are the things that we can control and get better at everyday. The wins and losses will kind of take care of themselves," said Cole.
Both coaches are excited to see how the season will play out. "We're looking forward to melding the returners with the new kids and putting a new product on the floor this year that everyone is going to enjoy watching and being a part of," said Cole.
The Girl's Basketball Team (5-2) takes on Quinnipiac on Wednesday, Dec. 9 at 7 P.M.