Last Saturday, as I was walking with some friends down Newbury Street, I passed a number of eateries, high-class clothing stores, and other similar shops.  As we kept walking, I couldn't help but notice a little, old-fashioned brick establishment.  It was built like every other store on the street, but something about it made it seem different.  Outside the shop, a sign read: "Johnny Cupcakes, the World's First T-Shirt Bakery."  I was instantly hooked.  What did this mean?  What did it sell?  What was it like inside?  Intrigued, I convinced my friends to take a trip inside.  We veered off the crowded sidewalk, leaving the hundreds of shoppers bustling about, and walked up the steps to Johnny Cupcakes.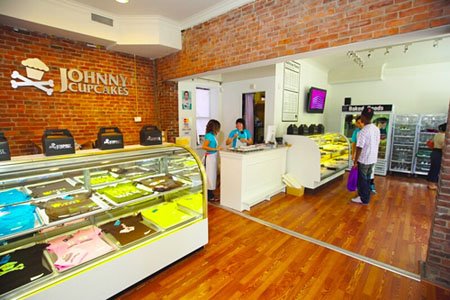 This Johnny Cupcakes (located at 279 Newbury St), which is the second Johnny Cupcakes store in the US (after the one in Hull, Massachusetts), belongs to a clothing line founded by Johnny Earle in 2001.  The company's name is derived from Johnny's nickname, Johnny Cupcakes, and the company began when Earle ordered a few screen-printed shirts that bore his nickname, which in time intrigued his friends and co-workers whenever they noticed him wearing them.  The clothing line sells almost every type of apparel, ranging from t-shirts to jewelry to underwear to stickers.  Upon entering the store, I noticed that the entire interior is modeled after a bakery, staying true to it slogan.  The company uses cupcakes as its basis for graphics on their apparel, incorporating them into cool designs, patterns, and images that they display onto clothes and sell.  The store is a local legend and a hot tourist spot, and its growth as time passes by is nothing short of exponential; according to Inc. Magazine, in 2009, it was listed as having a 915% growth rate over the course of just one year.  What makes this company so special is its fashionable clothing and uniqueness it offers to customers, both in its clothing and its experience.   When I visited, I was taken aback by the layout of the store, the vibe its customers gave off, and the friendliness of the staff.  Everyone is open and welcoming, and all of Johnny Cupcakes' items are lined up all around the store based on what type of accessory they are, making navigating around easy and fun.

Interested in learning more about the impact of Johnny Cupcakes on people in Boston, I took another trip to the store with the intent of interviewing one of the employees there.  When I arrived, it was 11:30 AM on a Tuesday morning, and there was no one in the store except for one worker, whom I was able to talk to about the franchise:
Me:  For how long have you been working at Johnny Cupcakes?
Employee:  This will be my fourth year working here.
Me:  How did you originally hear of Johnny Cupcakes?
Employee:  I was actually a fan of the band that Johnny [Cupcakes] was in.  I was a member of a local punk band, kind of like what Johnny was doing, and one night I performed with Johnny's band and saw everyone in the audience wearing his "Johnny Cupcakes" T-shirts.
Me:  Had you shopped at Johnny Cupcakes before you started working here?
Employee:  I had not; I had been in with friends who were shopping, but I had personally never bought anything from here before I started working.
Me:  Now that you are working here, what is the vibe you get from this place?  What emotions does this store let out?
Employee: It is a very creative environment, and it all starts with the front office.  We are constantly looking for new ways to improve graphic designs of our products, the setup of our store, and events that we have.  This place is kind of a community of its own.  It's really cool and unique.
Me:  How is the attitude of the customers who generally shop here?
Employee:  The attitude is good.  I mean, once in awhile we get a few people passing by who are confused as to why we don't actually sell cupcakes (laughs).  But yeah, our frequent customers are very respectful and are a pleasure to do business with.
Me:  What is your favorite thing about working here?
Employee:  I really like that it is a small store.  If you look around, we really have a lot of products that are up for sale, but it is in a very confined space.  I've worked in much bigger stores, and I honestly must say that the smaller, more homely feel of Johnny Cupcakes makes it really special.
Me:  Where do you think the Johnny Cupcakes franchise will be in five years?  
Employee:  Hm…that's really hard to say.  We've only been a company for fifteen years, and this specific store has been here for nine.  Five years is a long time, and a lot can happen.  But generally, I think we'll be OK.  I doubt that this store will move from Newbury Street.  Also, as a franchise we have begun to wholesale now; we sell products to Newbury Comics and Zumiez.  This will increase our brand recognition a great deal locally.  Like I said though, anything can happen, and we just have to adapt and interact with the customers.  
As you can see, Johnny Cupcakes clearly knows what it's doing, and knows what it has to do in order to succeed in the very competitive business of apparel.  And based on the stats, there is no reason to expect success will not continue for years to come from this bright young establishment.