Sometimes you just need to know what astrophysicist Neil deGrasse Tyson thinks are Hollywood's best aliens, or where actor B.J. Novak insists you get your bagels. And who knew celebrity chef Anthony Bourdain was partial to the film "Ratatouille" or dug the spaghetti scene in "Mostly Martha"? Or that Entertainment Weekly thinks actor Leonardo DiCaprio's performance in "Catch Me If You Can" ranks higher than the heart-wrenching "Titanic" or even "Inception"?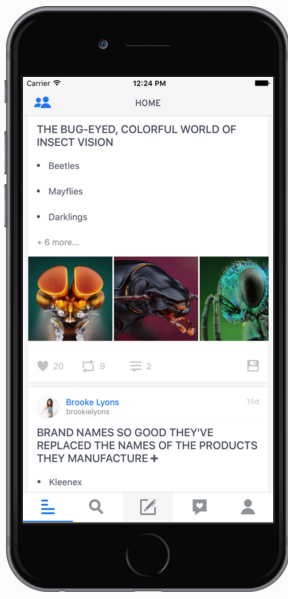 On The List App, you can find all of these random nuggets of information. Anything goes, and The List App goes with anything.  
The app, which launched to the public last October, is growing in popularity in the Boston area. It tailors to millennials who seek a lot of information in small bursts, and don't necessarily have the time to read longform articles. Lists are a medium that feels natural — the listicle, a list-based short-form article, has become a standard for popular sites such as BuzzFeed and Cracked.
"I think there's something inherent — maybe it's deep in our cognition — in the way that organizing information in that tightly compressed way just seems interesting," said Northeastern professor of journalism and new media, John Wihbey. "Poets have used the list, comedians have used the list. It's been a cultural form that I bet you goes back centuries."
The app, co-founded by Novak of "The Office" and entrepreneur Dev Flaherty, allows users to interact on a social media platform based solely on lists. You can spout off your political opinions, rave about your favorite restaurants or even compile a list of reasons why you love your grandmother. The app is a medium where you can follow your favorite celebrities or companies in a more humorously structured setting.
"There is a strong Boston contingency on the app, both of people who live there now or former residents," said Nicholas Kraft, director of audience development for The List App, "If you search 'Boston' in the app, you'll see hundreds of results for great lists, ranging from 'Awesome Indie Book Stores In The Boston Area' to 'Teen Slang In Boston.' The Institute of Contemporary Art Boston's inaugural list, '7 Things You Didn't Know About Peggy Guggenheim' contains some beautiful photos."
The immediacy of information has gone from luxury to necessity with the evolution of today's online world.
"The List App goes along with the trend of getting information fast," said Alexandra Sacco, community manager at Trill, an app that brings to the public information about Boston area live shows and entertainment. Sacco uses the app to post a weekly list of things to do in Boston based on her company's newsletter, featuring anything between concerts and comedy shows.
"We post six to 12 shows a week I think everyone should check out. We also do fun things like what restaurants we're into, what's a new venue we really like," she said.
Because of the relatively small number of beta users, they formed a tight-knit family before the app launched to the public. The app is very community oriented, with many friendships created between users.
Chris Kubica, software developer and writer, said that the app is an "interesting creative format" and a "great form to meet intelligent people."
Kubica argues that those in the list community tend to be a more intelligent or at least thought-provoking bunch. On places like Twitter, for example, it's easy to shout irrelevant 140-characters worth of nonsense into the void. In The List App, it seems people generally try harder to cultivate lists that have some sort of substance, he said.
The app's easy-to-use interface makes lists easy for anyone who simply wants to put things in order.
"I think this app applies to everyone because of the universal form that is the list. It's an appealing form as both a creator and a consumer," said Kraft.
Many people are reluctant to start a formal piece of writing. By converting the format to a list, more users are likely to take the leap in sharing their narratives or thoughts.
"What prevents so many people from writing and, in turn, sharing their experiences, observations, expertise and unique perspectives, is syntax," said Kraft. "How you weave your main points together can be tough. Lists immediately remove the burden of syntax."
The List App is no stranger to big names and celebrities, whether it be The New York Times or Mindy Kaling, Novak's former co-star in "The Office." One thing that's changing the game is the increased interaction between celebrity users and regular people.
"It erases borders between celebrities and non-celebrities. I've been able to have a quick interaction with a celebrity or two," said Erin Flaherty, a criminal justice student at University of Massachusetts Boston. "It's like people are people on there, and that's how you see them."
What's the future of The List App, or even lists in general? They've definitely integrated themselves into our society.
"Are lists just powerful enough now culturally that we can imagine people spending a lot of time on a list based social platform? I don't know," said Wihbey, "It certainly seems exciting and fun to be on The List App. You see content that you wouldn't see in other places from unusual people and famous people. Given the inherently appealing nature of lists, it's interesting to see how different people formulate them."