Name: Hsiang Wu
Year: Sophomore
Nationality: Taiwanese
Where do you consider home?
I think I would say that Taiwan is my home because I have lived there for almost 20 years. However, I do consider Boston as my second home because I've been here for almost a year now.
What is your favorite food from home?
My favorite food from home is the oyster omelet. It always reminds me of Taiwan. I miss it a lot when I'm in America for college because one can find a traditional omelet in almost all breakfast joints, but the oyster omelet is hard to find here. These omelets are sold in the famous night markets of Taiwan and are also the national dish of my country.
Why do you love this dish?
I love this dish because it reminds me of my friends and family. It reminds me of my mother and my childhood as my mother always used to take my family and me to the night market near our home after school, and I would always get the oyster omelet. It also brings back memories with my friends from back home. On the weekends, my friends and me would go to these night markets and enjoy the dish there or we used to get it packed and take it home. We would enjoy it while hanging out and watching TV. In simple words, this dish reminds me of home.
Can you tell me a little more about the dish?
First thing, the night markets are very popular in Taiwan. People usually go to them between 6 p.m. and midnight. There are no variations in how it is cooked throughout the country, as Taiwan is a small island nation. A lot of people eat the omelet for dinner as a regular meal, but others eat it as an after dinner snack. I personally eat it after dinner. It is famous in every night market in Taiwan and is a favorite among people.
Recipe: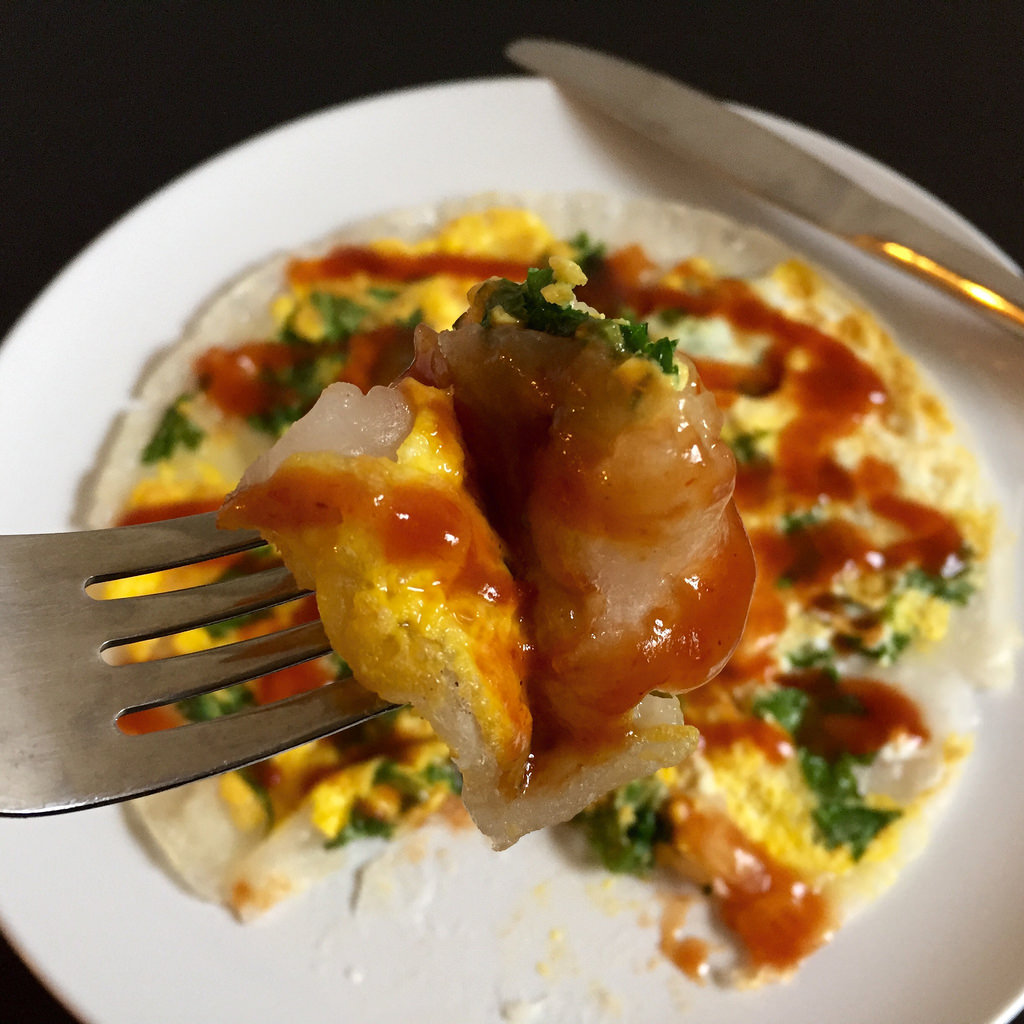 There are two things that have to be made separately, the omelet batter and the sauce.
Ingredients for omelet batter:
Small oysters or shrimps or squids

Fresh leafy vegetables of your choice

An egg

Water (1 ¼ cups for pancake batter and 1 ½ cups for the sauce)

½ cup of potato flour

3 tbsp. of tapioca starch

Sea salt (for seasoning)
Ingredients for the sauce:
1 ½ cups of water

3 tbsp. of gluten flour

2 tsp. of ketchup

5 tsp. of sweet chili sauce

1 tsp. of peanut butter

1 tbsp. of white sugar

2 pieces of cinnamon sticks
Instructions:
Step 1: The Sauce
On medium low heat, take the gluten flour and mix it with water. When it has mixed well, add ketchup, sweet chili sauce, peanut butter, white sugar and cinnamon sticks. Cook all ingredients together until they mix well and form a liquid sauce.
Step 2: The Omelet batter
In a bowl, mix water, potato flour, tapioca starch and sea salt. Make sure to whip the batter into a smooth texture.
Step 3: Cook the Omelet
Preheat the non-stick pan on medium-low heat and add some cooking oil.

Add the oyster or shrimp or squid and cook it in the middle of the pan.

Add the omelet batter next and spread it on the pan, just like you would a traditional breakfast omelet.

Crack the egg directly over the omelet when the batter starts to turn from a white color to a translucent color.

You can poke the yolk and make it into any shape you want.

Add the green leafy vegetables

Flip the omelet and wait for 1-2 minutes. (It is normal for the omelet to be very sticky).

Take it off the pan and serve hot.